66-RENAULT
23rd September 1960
Page 174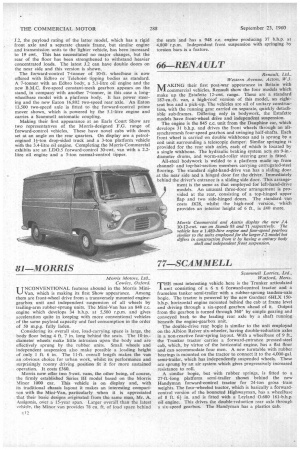 Page 174, 23rd September 1960 —
66-RENAULT
Close
Renault, Ltd..
Western Avenue, Acton, W3.
MAKING their ,first post-war appearance in Britain with commercial vehicles, Renault show the four models which make up the Estafette 12-cwt. range. These are a standard 187-cu.-ft. van, a high-roof version of this model,, an eightseat bus and a pick-up. The vehicles are all of unitary construction, with the running gear carried on separate, quickly detachable sub-frames. Differing only in bodywork, the Estafette models have front-wheel drive and independent suspension.
The engine is the 845 c.c. unit from the Dauphine car, which develops 31 b.h.p. and drives the front wheels through an allsynchromesh four-speed gearbox and swinging half-shafts. Each front wheel is carried on double wishbones and is sprung by a coil unit surrounding a telescopic damper. Similar springing is provided for the rear stub axles, each of which is located by a single wishbone. The hydraulic braking system acts on 9-in.diameter drums, and worm-and-roller steering gear is fitted.
All-steel bodywork is welded to a platform made up from channeland top-hat-section members carrying corrugated-steel flooring. The standard right-hand-drive van has a sliding door at the near side and a hinged door for the driver. Immediately behind the driver's entrance is a sliding side door. This arrangement is the same as that employed for left-hand-drive models. An unusual three-door arrangement is provided at the rear, consisting of a top-hinged upper flap and two side-hinged doors. The standard van costs £628, whilst the high-roof version, which provides an interior height of 6 ft., is £40 more.