93-MORRIS COMMERCIAL
23rd September 1960
Page 173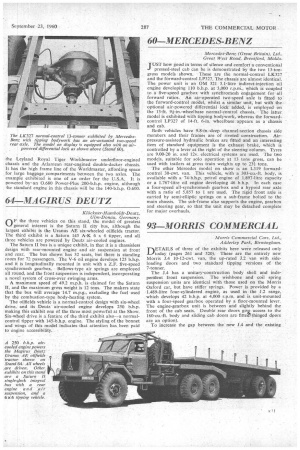 Page 174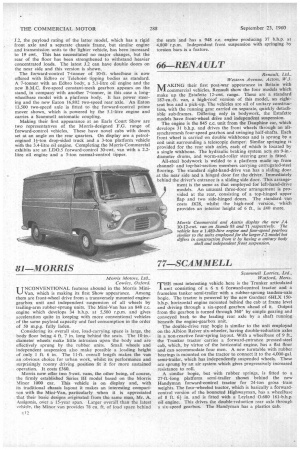 Page 173, 23rd September 1960 —
93-MORRIS COMMERCIAL
Close
Morris Commercial Cars, Ltd., Adderley Park, Birmingham.
TAETAILS of three of the exhibits here were released only -L./today (pages 261 and 320). These are the entirely new Morris J.4 10-12-cwt. van, the up-rated J.2 van with sideloading doors and two standard tipping versions of the 7-tonner.
The 1,4 has a unitary-construction body shell and indeperedent front suspension. The wishbone and coil spring suspension units are identical with those used on the Morris Oxford car, but have stiffer springs. Power is provided by a -1,489-litre four-cylindered engine, as used in the J.2 range, which develops 42 b.h.p. at 4,000 r.p.m. and is unit-mounted with a four-speed gearbox operated by a floor-mounted lever. The engine-gearbox unit is between arid slightly behind the front of the cab seats. Double rear doors givp• access to the 160-cu.-ft. body and sliding cab doors are fittea,(hinged doors are an option).
To increase the gap between the new J.4 and the existing J.2, the payload rating of the latter model, which has a rigid front axle and a separate chassis frame, but similar engine and transmission units to the lighter vehicle, has been increased to 19 cwt.. This has necessitated no major changes, but the rear of the floor has been strengthened to withstand heavier concentrated loads. The latest .1.2 can have double doors on the near side and this version is shown.
The forward-control 7-tonner of 10-ft. wheelbase is now offered with Edbro or Telehoist tipping bodies as standard. A 7-tonner with an Edbro body, a 5.1-litre oil engine and the new B.M.C. five-speed constant-mesh gearbox appears on the stand, in company with another 7-tonner, in this case a longwheelbase model with a platform body. It has power steering and the new Eaton 16,802 two-speed rear axle. An Eaton 13,500 two-speed axle is fitted to the forward-control prime mover shown, which is powered by the 5.1-litre engine and carries a Scammell automatic coupling.
Making their first appearance at an Earls Court Show are two representatives of the Morris-designed F.G. range of forward-control vehicles. These have novel cabs with doors set at an angle on the rear quarters. On display are a petrolengined 11-ton drop-sided truck and a 3-ton platform vehicle with the 3.4-litre oil engine. Completing the Morris-Commercial exhibits are an LD0.5 forward-control 30-cwt. van with a 2.2litre oil engine and a 5-ton normal-control tipper.