64-MAGIRUS DEUTZ
23rd September 1960
Page 173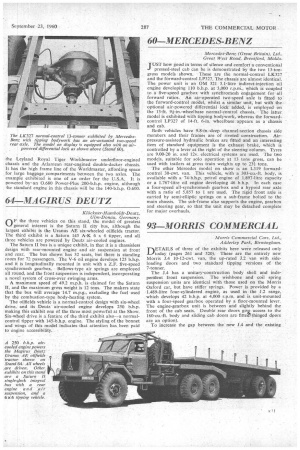 Page 173, 23rd September 1960 —
64-MAGIRUS DEUTZ
Close
Kliickner-Humboldt-Deutz, Ulm-Donau, Germany.
OF the three vehicles on this stand, the model of greatest general interest is the Saturn II city bus, although the largest exhibit is the Uranus AE six-wheeled oilfields tractor The third exhibit is a Saturn 145 A-K 6 x 6 tipper, and all three vehicles are powered by beutz air-cooled engines.
The Saturn II bus is a unique exhibit, in that it is a chassisless design with rear-mounted engine and air suspension at front and rear. The bus shown has 32 seats, but there is standing room for 72 passengers. The V-6 oil engine develops 125 b.h.p, and it is longitudinally mounted in unit with a Z.F. five-speed synchromesh gearbox. • Bellows-type air springs are employed all round, and the front suspension is independent, incorporating a novel system of cross-over swinging arms.
A maximum speed of 49.2 m.p.h. is claimed for the Saturn II, and the maximum gross weight is 12 tons. The makers state that the bus will average 14.7 m.p.g., excluding the fuel • used by the combustion-type body-heating system.
The oilfields vehicle is a normal-control design with six-wheel
drive, and its Deutzair-cooled engine develops 250 b.h.p. making this exhibit one of the three mOst powerful at the Show. Six-wheel drive is afeatiire of the third exhibit also—a normalcontrol tipper with 145-b.h.p. engine. The styling of the bonnet and wings of this model indicates that attention has been paid to engine .aecessibility.