60-MERCEDES-BENZ
23rd September 1960
Page 173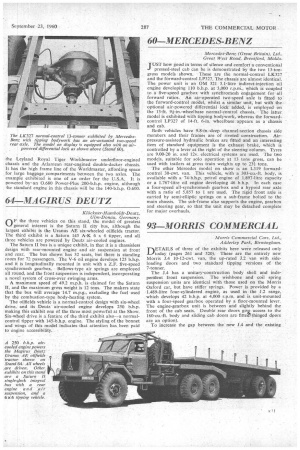 Page 173, 23rd September 1960 —
60-MERCEDES-BENZ
Close
Mercedes-Benz (Great Britain), Ltd., Great West Road, Brentford, Middx.
JUST how good in terms of silence and comfort a conventional pressed-steel cab can be is demonstrated by the two 13-tongross models shown. These are the normal-control LK327 and the forward-control LP327. The chassis are almost identical. The power unit is an OM 321 5.1-hue indirect-injection oil engine developing 110 b.h.p. at 3,000 r.p.m., which is -coupled to a five-speed gearbox with synchromesh engagement for all forward ratios.. An air-operated two-speed axle is fitted to the forward-control model, whilst a similar unit, but with the optional air-powered differential lock added, is employed on the 13-ft. 9i-in.-wheelbase normal-control chassis. The latter model is exhibited with tipping bodywork, whereas the forwardcontrol LP327 of 14-ft. 6-in. wheelbase . appears as a chassis and cab.
Both vehicles have 9.8-in.-deep channel-section chassis side members and their frames are of riveted construction. Airpressure-assisted hydraulic brakes are fitted and an interesting item of standard equipment is the exhaust brake, which is controlled by a lever at the right of the steering column. Tyres are 9,00-20 in. and 12v, electrical systems are used. The two models, suitable for solo operation at 13 tons gross, can be used with trailers at gross train weights up to 231tons.
The other Mercedes model on show is an L319 forwardcontrol 30-cwt. van. This vehicle, with a 303-eu.-ft. body, is available with a -74-b.h.p. petrol engine of 1.897-litre capacity or a 1.767-litre oil engine developing 46 b.h.p. In each case a four-speed all-synchromesh gearbox and a hypoid rear axle with a ratio of 5.857 to I are used. The rigid front axle is carried by semi-elliptic springs on a sub-frame bolted to the main chassis. The sub-frame also supports the engine, gearbox and steering gear, so that the unit may be detached complete for major overhauls.