70-LEYLAND
23rd September 1960
Page 170
Page 173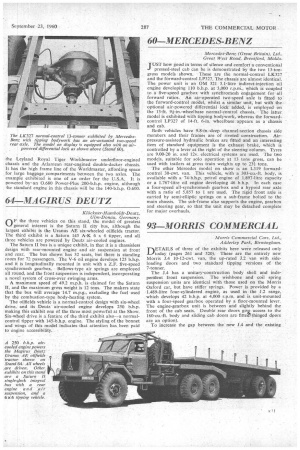 Page 170, 23rd September 1960 —
70-LEYLAND
Close
Leyland Motors, Ltd., Leyland. Lancs.
THREE of the five exhibits are completely new, whilst the fourth is a recent chassis with a brand-new power unit. Only one passenger chassis is exhibited—the new Lion rearengined single-decker model—whilst two of the goods vehicles are examples from the new heavy-duty range (The Commercial Motor, September 9).
One of these goods vehicles is an Octopus 14-ft. 9-in.wheelbase eight-wheeler having the new Leyland 0.600 PowerPlus oil engine, rated to give 140 b.h.p. at 1,700 r.p.m. and 438 lb.-ft. torque at 1,200 r.p.m. A new five-speed constantmesh gearbox is fitted and the all-metal cab has entrance steps ahead of the front wheels. All the latest Leyland heavy models have double-reduction axles. In the case of chassis with double-drive rear bogies, the -drive to the second axle passes through the case of the leading axle. Alternative rear suspension systems are offered, one being a non-reactive fourspring layout and the other a two-spring system with trunnion mountings.
A Beaver four-wheeled tractive unit is the other new goods vehicle exhibited, and although this has a number of units common to the Octopus eight-wheeler, it has an alternative power unit, This is the 0.680 Power-Plus, which has a net output of 200 b.h.p. at 2,200 r.p.m. The Beaver tractive unit has a wheelbase of 8 ft. and can be obtained with a Scam-nett semi-trailer specially developed for use with it, having either air or rubber suspension.
Of the other two goods vehicles exhibited, one is a Super Comet 14-ton-gross four-wheeler with the new Leyland 0.400 Super Power-Plus unit which produces 125 b.h.p., compared with the 110 b.h.p. developed by the 0.375 formerly fitted.
The remaining goods vehicle is a Comet 12-ton-gross fourwheeled tipper with a Durarnin light-alloy 7-ft.-wide body. This chassis has a Leyland 0.350 100-b.h.p. oil engine and five-speed constant-mesh gearbox, whilst its braking system is air-hydraulic.
The Lion passenger chassis is in effect a combination of (Continued on page 287.)
the Leyland Royal Tiger Worldmaster underfloor-engined chassis and the Atlantean rear-engined double-decker chassis. It has the high frame line of the Worldmaster, affording space for large baggage compartments between the two axles. The example exhibited is One of an order for the U.S.A. It is powered by-an 0.680 Power-Plus 200-b.h.p. engine, although the standard engine in this chassis will be the 140-b.h.p. 0.600.