92-FORD THAMES
23rd September 1960
Page 164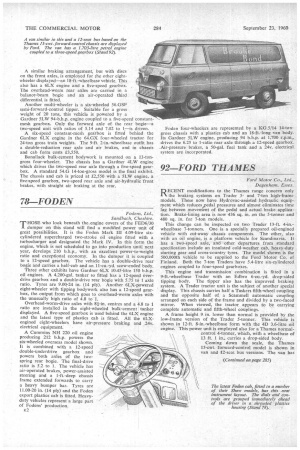 Page 169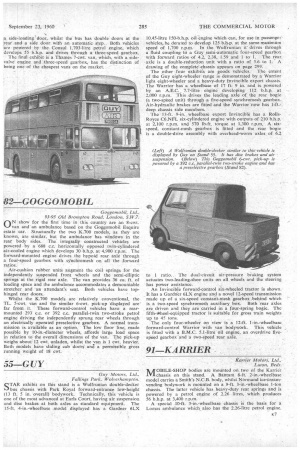 Page 164, 23rd September 1960 —
92-FORD THAMES
Close
Ford Motor Co., Ltd.,, Dagenham, Essex.
RECENT modifications to the Thames range concern only the braking systems on Trader 5and 7-ton high-frame models. These now have Hydrovac-assisted hydraulic equipment which redueespedal pressures and almost eliminates time lag between movement of the pedal and actual brake application. Brake-lining area is now 436 sq. in. on the 5-tonner and 480 sq. in. for 7-ton models.
This change can be inspected on two Trader 13-ft 4-in.wheelbase 7-tonners. One is a specially prepared oil-engined vehicle with cut-away chassis components. The other, also with an oil engine, is a platform vehicle for Scandinavia. It has a two-speed axle, and other departures from standard specification include an insulated cold-weather cab, heavy-duty starting gear and cross-country tyres. The model shown is the 500,000th vehicle to be supplied to the Ford Motor Co. of Finland. Both the 7-ton Traders have 5.4-litre six-cylindered engines coupled to four-speed gearboxes.
This engine and transmission combination is fitted in a 9-ft.-wheelbase Trader with an Edbro 6-cu.-yd. drop-sided tipping body. The tipper also has the improved braking system. A Trader tractor unit is the subject of another special display. This chassis carries half a Taskers fifth-wheel coupling and the opposite half of a Scammell automatic coupling arranged on each side of the frame and divided by a two-faced mirror. When viewed, the tractor appears to be carrying complete automatic and fifth-wheel couplings.
A frame height 9. in. lower than normal is provided by the low-frame version of the Trader 5-tonner. This vehicle is shown in 12-ft. 8-in.-wheelbase form with the 4D 3.6-litre oil engine. This power unit is employed also for a Thames normalcontrol 4-tonner, which, with a wheelbase of 13 ft. 1 in., carries a drop-sided body.
Coming down the scale, the Thames 15-cwt. forward-control model is shown in van and 12-seat bus versions. The van has
a side-loading door, whilst the bus has double doors at the rear and a side door with an automatic step. Both vehicles are powered by the Consul 1.703-litre petrol engine, which develops 55 b.h.p. and drives through a three-speed gearbox.
The final exhibit is a Thames 7-cwt. van, which, with a sidevalve engine and three-speed gearbox, has the distinction of being one of the cheapest vans on the market.