91-KARRIER
23rd September 1960
Page 169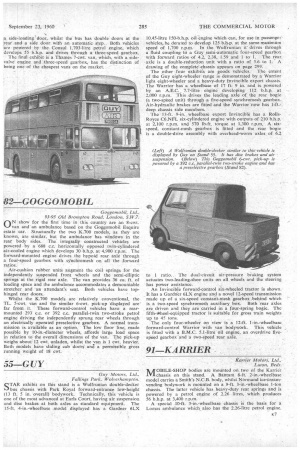 Page 170
Page 169, 23rd September 1960 —
91-KARRIER
Close
karrier Motors', Ltd.,Luton, Beds. Ail-OBILE-SHOP bodies are Mounted on two of the Karrier IV-I-chassis on this stand. A Bantam 8-ft. 2-in.-wheelbase model carries a Smith's N.C.B. body, whilst Normand ice-Creamvending bodywork is mounted on a 9-ft. 3-in.-wheelbase 1-ton chassis. The latter vehicle has heavy-duty rear springs and is powered by a petrol engine of .2.26 litres, which produces 56 b.h.p. at 3,400 r.p.m.
A special .10-ft. 3-in.-wheelbase chassis is the basis for a Lomas ambulance which also has the 2.26-litre petrol engine. The oil engine of the same capacity, which is an alternative power unit for the whole Bantam 2-3-ton range, is fitted in an 8-ft. 2-in.-wheelbase tipper. This engine develops 54 b.h.p. at 3,000 Limn. and, in the Bantam, is coupled to a four-speed synchromesh gearbox.
The rear axle is a spiral-bevel unit and a straight hydraulic braking system is fitted. The tipper is equipped with 27 x 6 tyres and has shock absorbers at both axles. A .1-type automatic coupling is carried by a Bantam tractor. This petrolengined vehicle is destined for South African Railways and is shown in their livery. Yet another Bantam, in this case a 10-ft. 2-in.-wheelbase model with a petrol engine and 27 x 6 tyres, has special platform bodywork for the carriage of crated bottles,
Like the Bantam, no major modifications have been introduced on Gamecock 3-4-ton models since the 1958 Show. One such vehicle, for Rotterdam Municipality, is shown in lefthand-drive form. its six-cylindered 4.75-litre petrol engine is mounted beneath the cab seat, produces 91 b.h.p. at 2,600 r.p.m. and drives the spiral-bevel rear axle through a four-speed gearbox. Vacuum assistance is provided for the braking system.
The Gamecock models all have a pressed-steel cab with a one-pieoe windscreen and entrance steps ahead of the wheels, A Perkins C.305 5-litre oil engine with an output of 87 b.h.p. is fitted in the other Gamecock displayed. This model has a special body for the soft-drinks trade.