55-GUY
23rd September 1960
Page 169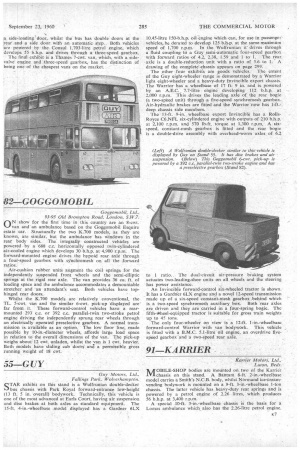 Page 169, 23rd September 1960 —
55-GUY
Close
Guy Motors, Ltd., Fallings Park, Wolverhampton..
STAR exhibit on this stand is a Wulfrunian double-decker bus chassis with Park Royal forward-entrance low-height (13 ft. 5 in. overall)• bodywork. Technically, this vehicle is one of the most advanced at Earls Conrt, having air suspension and disc brakes at both axles as standard equipment. The 15-ft. 4-in.-wheelbase model displayed has a Gardner 6LX 10.45-litre 150-b.h.p. oil engine which can, for use in passengei vehicles, be &rated to develop 125 b.h.p. at the same maximum speed of 1,700 r.p.m. In the Wulfrunian it drives through a fluid coupling to a Guy semi-automatic four-speed gearbox with forward ratios of 4.2, 2..38, 1.59 and 1 to 1, • The rear. axle is a double-reduction unit with a ratio of 5.6 to 1. A drawing of the completechassis appears on page 299.
The Other fotir exhibit's are goods vehicles. The extent of the Guy eight-wheeler range is demonstrated by a Warrior light eight-wheeler and a heavy-duty Invincible export chassis. The Warrior .has a wheelbase of 17 ft. 9 in. and is powered by an A.E.C._ 7.7-litre engine developing 112 b.h.p. at 2,000 r.p.m. This drives the leading axle of the rear bogie (a two-speed unit) through a five-speed synchromesh gearbox. Air-hydraulic brakes are fitted and the Warrior now has 1-ft.-. deep chassis side members.
The 13-ft, 9-in. wheelbase export Invincible has a RollsRoyce C6.NFL six-cylindered engine with outputs of 210 b.h.p. at 2,100 r.p.m. and 570 lb-ft. torque at 1,300 r.p.m. A sixspeed, constant-mesh gearbox is fitted and the rear bogie is a double-drive assembly with overhead-worm axles of 6.2 to 1 ratio... The dual-circuit air-pressure braking system actuates two-leading-shoe units on all wheels and the steering has power assistance.
• An Invincible forward-control six-wheeled tractor is shown. It has a Gardner 6LX engine and a novel 12-speed transmission made up of. a six-speed constant-mesh gearbox behind which is a two-speed synchromesh auxiliary box. Both rear axles are driven and they are carried in a four-spring bogie. The fifth-*heel-eqUipped tractor is suitable for gross train weights up to 45 tons.
-The only four-wheeler on view is a 12-ft. 1-in.-wheelbase forward-control Warrior with van bodywork. This vehicle is fitted with a B.M.C. 5.1-litre oil engine, an overdrive fivespeed gearbox and a two-speed rear axle.