78-FODEN
23rd September 1960
Page 164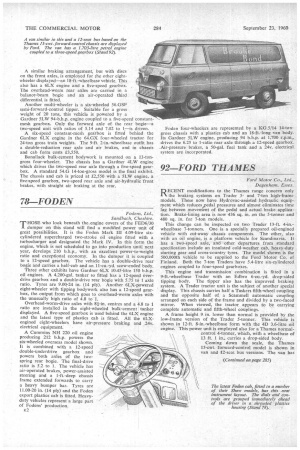 Page 164, 23rd September 1960 —
78-FODEN
Close
Fodens, Ltd., Sandbach, Cheshire. THOSE who look beneath the,engine covers of the FED6/30 1 dumper on this stand will find a modified power unit of great possibilities. It is the Foden Mark 111 4.09-litre sixcylindered supercharged two-stroke oil engine fitted with a turbocharger and designated the Mark IV. In this form the engine, which is not scheduled to go into production until next year, develops 210 b.h.p., with an excellent power-to-weight ratio and exceptional economy. In the dumper it is coupled to a 12-speed gearbox. The vehicle has a double-drive rear bogie and carries a half-cab and an 11-cu.-yd. scow-ended body.
Three other exhibits have Gardner 6LX 10,45-litre 150 b.h.p.
oil engines. A 4,200-gal. tanker so fitted has a 12-speed overdrive gearbox and a double-drive rear bogie with 5.75 to 1 axle ratio. Tyres are 9.00-24 in. (14 ply). Another 6LX-powered eight-wheeler with tipping bodywork also has a 12-Speed gearbox, the output from which goes to overhead-worm axles with the unusually high ratio of 4.8 to I.
Overhead-worm-drive axles with 8t-in. centres and a 4.8 to 1 ratio are installed in the eight-wheeled bulk-cement tanker displayed. A five-speed gearbox is used behind the 6LX engine and the latest type of plastics cab is fitted. All the 6LXengined eight-wheelers have air-pressure braking and .24v. electrical equipment. • A Cummins NH 220 oil engine producing 212 b.h.p. powers the six-wheeled overseas model shown. It is combined with a 12-speed double-underdrive gearbox and powers both axles of the twospring rear bogie. The final-drive ratio is 5.2 to 1. The vehicle has air-operated brakes, power-assisted steering and a 1-ft.-deep chassis frame extended forwards to carry a heavy bumper bar. Tyres are 11.00-20 in. (14 ply) and the Foden export plastics cab is fitted. Heavyduty vehicles represent a large part of Fodens' production.
K2 Foden four-wheelers are represented by a KG.5/14 14-tongross chassis with a plastics cab and an 18-ft-long van body. Its Gardner 5LW engine, producing 94 b.h.p. at 1,700 r.p.m., drives the 6.25 to 1-ratio rear axle through a 12-speed gearbox. -Air-pressure brakes, a 50-gal. fuel tank and a 24v. electrical system are incorporated.