E.R.F., Ltd., Sandbach, Cheshire. Sandbach, Cheshire.
23rd September 1960
Page 163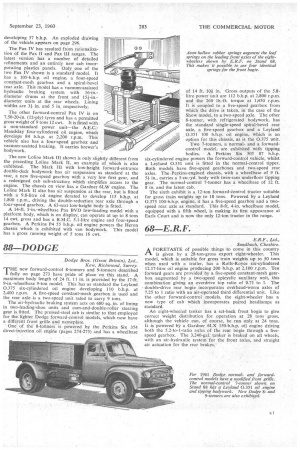 Page 164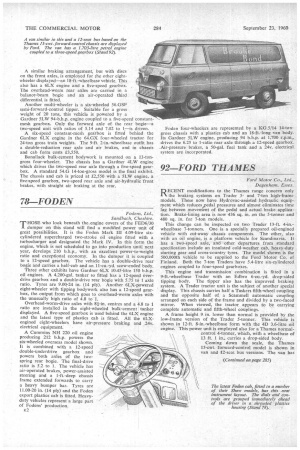 Page 163, 23rd September 1960 —
E.R.F., Ltd., Sandbach, Cheshire. Sandbach, Cheshire.
Close
AFORETASTE of possible things to come in this country is given by a 28-ton-gross export eight-wheeler. This model, which is suitable for gross train weights up to 50 tons when used with a trailer, has a Rolls-Royce six-cylindered 12.17-litre oil engine producing 200 b.h.p. at 2,100 r.p.m. Ten forward gears are provided by a five-speed constant-mesh gearbox augmented by a two-speed epicyelic auxiliary unit, this combination giving an overdrive top ratio of 0.71 to I. The double-drive rear bogie incorporates ovdrhead-worm axles of 7.25 to 1 ratio with an air-operated third differential unit. Like the other forward-control models, the eight-wheeler has a new type of cab which incorporates paired headlamps as standard.
An eight-wheeled tanker has a set-back front bogie to give correct weight distribution for operation at 28 tons gross, although the vehicle can, of course, be run only at 24 tons. It is powered by a Gardner 6LX 150-b.h.p. oil engine driving both the 5.2-to-l-ratio axles of the rear bogie through a fivespeed gearbox. The 3,240-gal. tanker is braked on all wheels, with an air-hydraulic system for the front axles, and straight air actuation for the rear brakes. A similar braking arrangement, but with discs on the front axles, is employed for the other eightwheeler displayed-an 18-ft-wheelbase vehicle. This also has a 6LX engine and a five-speed gearbox. The overhead-worm rear axles are carried in a balance-beam bogie and an air-operated third differential is fitted.
Another multi-wheeler is a six-wheeled 56.GSF semi-forward-control tipper. Suitable for a gross weight of 20 tons, this vehicle is powered by a Gardner 5LW 94-b.h.p. engine coupled to a five-speed constantmesh gearbox. Only the forward axle of the rear bogie-a two-speed unit with ratios of 5.14 and 7.02 to 1-is driven.
A six-speed constant-mesh gearbox is fitted behind the Gardner 6LX engine in the 64.GX four-wheeled tractor for 24-ton gross train weights. The 9-ft. 2-in.-wheelbase outfit has a double-reduction rear axle and air brakes, and in chassis and cab form costs £3,550.
Bonallack bulk-cement bodywork is mounted on a 13-tongross four-wheeler. The chassis has a Gardner 4LW engine which drives the two-speed rear axle through a five-speed gearbox. A standard 54.0 14-ton-gross model is the final exhibit. The chassis and cab is priced at £2,550 with a 5LW engine, a five-speed gearbox, two-speed rear axle and air-hydraulic front brakes, with straight air braking at the rear.