88-DODGE
23rd September 1960
Page 163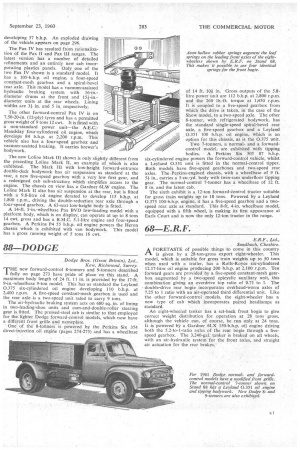 Page 163, 23rd September 1960 —
88-DODGE
Close
• Dodge Bros. (Great Britain), Ltd., Kew, Richmond, Surrey.
THE new forward-control 8-tonners and 9-tonners described fully on page 273 have pride of place on this stand. A maximum body length of 24 ft. 11 in. is provided by the 17-ft. 9-in.-wheelbase 9-ton model. This has as standard the Leyland 0.375 six-cylindered oil engine developing 110 b.h.p. at 2,400 r.p.m. A five-speed constant-mesh. gearbox is used and the rear axle is a two-speed unit rated to carry 9 tons.
The air-hydraulic braking system acts on 680 sq.sin. of lining in two-leading-shoe units and cam-and-double-roller steering gear is fitted. The pressed-steel cab is similar to that employed for the lighter Dodge forward-control models, which now have
a different front grille and nameplate. .
One of the 8-tonners is powered by the Perkins Six 354 direct-injection oil engine (pages 274-275) and has a wheelbase of 14 ft. 101 in. Gross outputs of the 5.8litre power unit are 112 b.h.p, at 2,800 r.p.m. and the 260 lb.-ft. torque at 1,450 r.p.m. It is coupled to a five-speed gearbox from which the drive is taken, in the case of the Show, model, to a two-speed axle. The other 8-tonner, with refrigerated bodywork, has the standard single-speed spiral-bevel rear axle, a five-speed gearbox and a Leyland 0.351 100 b.h.p. oil engine, which is an option for this chassis, as is the 0.375 unit.
Two 7-tonners, a normaland a forwardcontrol model, are exhibited with tipping bodies. A Perkins Six 305 87 b.h.p. six-cylindered engine powers the forward-control vehicle, whilst a Leyland 0.351 unit is fitted in the normal-control tipper. Both models have five-speed gearboxes and two-speed rear axles. The Perkins-engined chassis, with a wheelbase of 9 ft. 5+ in., carries i 5-cu.-yd. body with twin-ram underfloor tipping gear. The normal-control 7-tonner has a wheelbase of 12 ft. 8 in. and the latest cab.
The sixth exhibit is a 12-ton forward-Control tractor suitable for gross train weights up to 18 tons. Powered by a Leyland 0.375 100-bh.p. engine, it has a five-speed gearbox and a twospeed rear. axle as standard. This 8-ft. 4-in, wheelbase model, equipped with .a fifth wheel, is making its first appearance at Earls Court and is now the only 12-ton tractor in the range.