67-DAIMLER
23rd September 1960
Page 150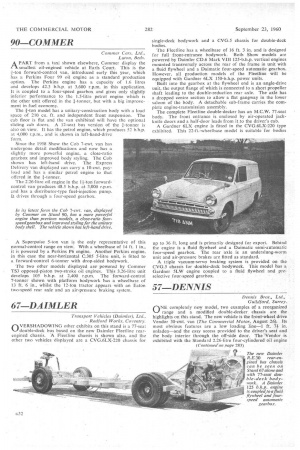 Page 150, 23rd September 1960 —
67-DAIMLER
Close
Transport Vehicles (Daimler), Lid., Radford Works, Coventry,
OVERSHADOWING other exhibits on this stand is a 77-seat Idouble-deck bus based on the new Daimler Fleetline rearengined chassis. A Fleetline chassis is shown also, and the other two vehicles displayed are a CVG.6LX-220 chassis for single-deck bodywork and a CV0.5 chassis for double-deck bodies.
The Fleetline has a wheelbase of 16 ft. 3 in, and is designed for full front-entrance bodywork. Both Show models are powered by Daimler CD.6 Mark VIII 125-b.h.p. vertical engines mounted transversely across the rear of the frame in unit with a fluid flywheel and a Daimatic four-speed automatic gearbox. However, all production models of the Fleetline will be equipped with Gardner 6LX 150-b.h.p. power units.
-Built into the gearbox at the flywheel end is• an angle-drive unit, the output flange of which is connected to a short propeller shaft leading to the double-reduction rear axle. The axle has a dropped centre section to allow a flat gangway in the lower saloon of the body. A detachable sub-frame carries the complete engine-transmission assembly.
The complete Fleetline double-decker has an M.C.W. 77-seat body. The front entrance is enclosed by air-operated jackknife doors and a half-door leads from it.to the driver's cab.
A Gardner 6LX engine is fitted in the CVG.6LX-220 type exhibited. This 22-ft.-wheelbase model is suitable for bodies up to 36 ft. long and is primarily designed for export. Behind the engine is a fluid flywheel and a Daimatic semi-automatic four-speed gearbox. The rear axle is an underslung-worm unit and air-pressure brakes are fitted as standard.
A triple vacuum-servo braking system is provided on the CVG.5 chassis for .double-deck bodywork. This model has a Gardner 5LW engine coupled to a fluid flywheel and preselective four-speed gearbox.