80-A.E.C.
23rd September 1960
Page 147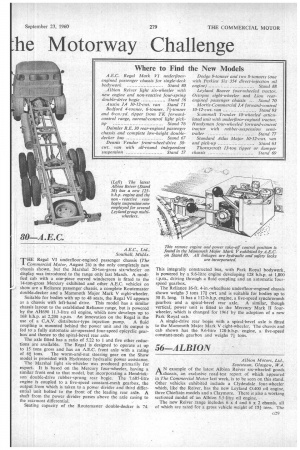 Page 148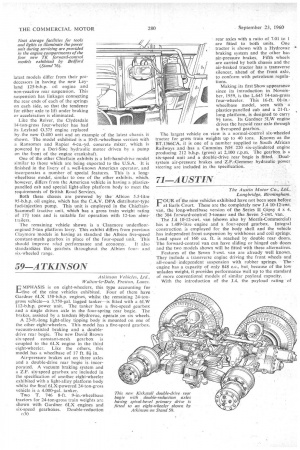 Page 147, 23rd September 1960 —
80-A.E.C.
Close
A.E.C., Ltd., Southall, Middx.
THE Regal VI underfloor-engined passenger chassis (The Commercial Motor, August 26) is the only completely new chassis shown, but the Marshal 20-ton-gross six-wheeler ondisplay was introduced to the range only last March. A modified cab with a one-piece curved windscreen is fitted to the 14-ton-gross Mercury exhibited and other A.E.C. vehicles on show are a Reliance passenger chassis, a complete Routemaster double-decker and a Mammoth Major Mark V eight-wheeler.
Suitable for bodies with up to 48 seats, the Regal VI appears as a chassis with left-hand drive. This model has a similar chassis layout to the established Reliance range, but is powered by the AH690 11.3-litre oil engine, which now develops up to 168 b.h.p. at 2,200 r.p.m. An innovation on the Regal is the use of a C.A.V. distributor-type injection pump. A fluid coupling is mounted behind the power unit and its output is fed to a fully automatic air-operated four-speed epicyclic gearbox and thence to the spiral-bevel rear axle.
The axle fitted has a ratio of 5.22 to 1 and five other reductions are available. The Regal is designed to operate at up to 15 tons gross and has an A.E.C. front axle with a rating of 61 tons. The worm-and-nut steering gear on the Show model is provided with Hydrosteer hydraulic power assistance.
The Marshal light six-wheeler was produced primarily for export. It is based on the Mercury four-wheeler, having a similar front end to that model, but incorporating a Hendrickson double-drive rubber-sprung rear bogie. The 7.685-litre engine Is coupled to a five-speed constant-mesh gearbox, the output from which is taken to a power divider and third differential unit bolted to the front of the leading rear axle. A shaft from the power divider passes above the axle casing to the rearmost differential.
Seating capacity of the Routemaster double-decker is 74. This integrally constructed bus, with Park Royal bodywork, is powered by a 9.6-litre engine developing 128 b.h.p. at 1,800 r.p.m., driving through a fluid coupling and an automatic fourspeed gearbox.
The Reliance 16-ft. 4-in.-wheelbase underfloor-engined chassis shown weighs 3 tons 171 cwt. and is suitable for bodies up to 30 ft. long. It has a 112-b.h.p. engine, a five-speed synchromesh gearbox and a spiral-bevel rear axle. A similar, though vertical, power unit is fitted to the Mercury Mark II fourwheeler, which is changed for 1961 by the adoption of a new Park Royal cab.
A single-drive rear bogie with a spiral-bevel axle is fitted to the Mammoth Major Mark V eight-wheeler. The chassis and cab shown has the 9.6-litre 128-b.h.p. engine, a five-speed constant-mesh gearbox and weighs 71 tons.
56-ALBION
Albion Motors, Ltd., Scotstoun. Glasgow, W.4. CIA N example of the latest Albion Reiver six-wheeled goods chassis, an exclusive road-test report of which appeared in The Commercial Motor last week, is to be seen on this stand. Other vehicles exhibited include a Clydesdale four-wheeler which, like the Reiver. has the new Leyland 0.400 oil engine, three Chieftain models and a Claymore. There is also a working sectioned model of an Albion 5.5-litre oil engine.
The new Reiver range includes 6 x 4 and 6 x 2 chassis, all of which are rated for a gross vehicle weight of 151 tons. The
latest models differ from their predecessors in having the new Leyland 125-b.h.p. oil engine and non-reactive rear suspension. This suspension has linkages connecting the rear ends of each of the springs on each side, so that the tendency for either axle to lift under braking or acceleration is eliminated.
Like the Reiver, the Clydesdale 14-ton-gross four-wheeler has bad its Leyland 0.375 engine replaced by the new 0.400 unit and an example of the latest chassis is shown. The model exhibited is a 10-ft-wheelbase version with Ransomes and Rapier 4-cu.-yd. concrete mixer, which is powered by a Den-Sine hydraulic motor driven by a pump on the front of the engine crankshaft.
One of the other Chieftain exhibits is a left-hand-drive model similar to those which are being exported to the U.S.A. It is finished in the livery of a well-known American operator, and incorporates a number of special features. This is a longwheelbase model, similar to one of the other exhibits, which. however, differs from the American vehicle in having a plasticspanelled cab and special light-alloy platform body to meet the requirements of British Road Services.
Both these chassis are powered by the Albion 5.5-litre 95-h.h.p. oil engine, which has the C.A.V. DPA distributor-type fuel-injection pump. This unit is employed in the ChieftainScarnmell tractive unit, which has a gross train weight rating of 171 tons and is suitable for operation with I2-ton smitrailers.
The remaining vehicle shown is a Claymore underfloorengined 5-ton platform lorry. This exhibit differs from previous Claymore models in having as standard the Albion five-speed constant-mesh gearbox in place of the four-speed unit. This should improve rciad performance and economy. It also standardizes this gearbOx throughout the Albion fourand six-wheeled ranee.