Chassis Producers Pick U1 he Motorway Challenge
23rd September 1960
Page 146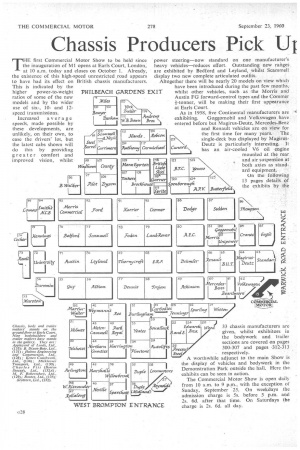 Page 147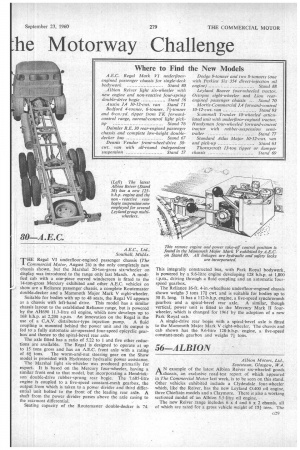 Page 146, 23rd September 1960 —
Chassis Producers Pick U1 he Motorway Challenge
Close
THE first Commercial Motor Show to be held since the inauguration of MI opens at Earls Court, London,
at 10 a.m. today and closes on October 1. Already, the existence of this high-speed unrestricted ,road appears to have had its effect on British chassis manufacturers. This is indicated by the Increased average speeds, made possible by these developments, are unlikely, on their own, to ease the drivers' lot, but the latest cabs shown will do this by providing greater comfort and improved vision, whilst power steering—now standard on one manufacturer's heavy vehicles—reduces effort. Outstanding new ranges are exhibited by Bedford and Leyland, whilst Scammell display two new complete articulated outfits.
Altogether there will be nearly 20 models on view which have been introduced during the past few months, XIT whilst other vehicles, such as the Morris and Austin FG forward-control types and the Commer 1-tonner, will be making their first appearance at Earls Court.
As in 1958, five Continental manufacturers are exhibiting. Goggomobil and Volkswagen have entered before but Magirus-Deutz, Mercedes-Benz and Renault vehicles are on view for the first time for many years. The single-deck bus displayed by MagirusDeutz is particularly interesting. It has an air-cooled V6 oil engine mounted at the rear and air suspension at both axles as standard equipment.
•
On the following 13 pages details of the exhibits by the 33 chassis manufacturers are given, whilst exhibitors in the bodywork and trailer sections are covered on pages 300-307 and pages •312-313 respectively.
A worthwhile adjunct to the main Show is the display of vehicles and bodywork in the Demonstration Park outside the hall. Here the exhibits can be seen in action.
The Commercial Motor Show is open daily from 10 a.m. to 9 p.m., with the exception of Sunday, September 25. On weekdays the admission charge is 5s. before 5 p.m. and
WEST BROMPTON ENTRANCE 2s. 6d. after that time. On Saturdays the
charge is 2s. 6d. all day.
Where to Find the New Models
A.E.C. Regal Mark VI underfloorengined passenger chassis for single-deck bodywork Stand 80 Albion Reiver light six-wheeler with new engine and non-reactive four-spring double-drive bogie Stand 56 Austin 1.4 10-12-cwt. van Stand 71 Bedford 4-tonner, 6-tonner, 71-tonner and 6-cu.-yd. tipper from TK forwardcontrol range, normal-control light pick up Stand 76 Daimler R.E. 30 rear-engined passenger chassis and complete low-height double decker bus Stand 67 Dennis Vendor front-wheel-drive 30cwt. van with all-round independent suspension Stand 57 Dodge 9-Ionizer and two 8-tonners (one with Perkins Six 354 direct-injection oil engine) Stand 88 Leyland Beaver four-wheeled tractor, Octopus eight-wheeler and Lion rear engined passenger chassis Stand 70 Morris-Commercial 1.4 forward-control 10-12-cwt. van Stand 93 Scannell Trunker 10-wheeled articulated unit with underfloor-engined tractor, Handyman four-wheeled forward-control tractor with rubber-suspension semi trailer Stand 77 Standard Atlas Major 10-12-cwt. van and pick-up Stand 63 Thorn ycroft I3-ton tipper or dumper chassis Stand 69