Evidence Forces Railways' Withdrawal
23rd September 1960
Page 145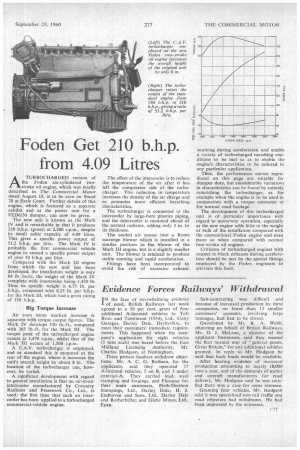 Page 145, 23rd September 1960 —
Evidence Forces Railways' Withdrawal
Close
I N the face of overwhelming evidence of need, British Railways last week agreed to a 50 per cent, grant of four additional A-licensed vehicles to Toft Bros. and Tomlinson (1954), Ltd., Unity Garages, Darley Dale, Derbyshire, to meet their customers' immediate requirements. This happened when the company's application for eight vehicles (5 tons each) was heard before the East Midland Licensing Authority, Mr. Charles Hodgson, at Nottingham.
Three private hauliers withdrew objections. Mr. A. C. G. Rothera, for the applicants, said they operated 17 A-licensed vehicles, 5 on B, and 3 under contract-A. They carried lead, steel stamping and forgings, and Fluospar for their main customers, Firth-Derihon Stampings, Ltd., Darley Date; H. J. Endhoven and Sons, Ltd., Darley Dale and Rotherhithe; and Glebe Mines, Ltd., Eyan. Sub-contracting was difficult and because of increased production by these companies, no fewer than 12 smaller customers' accounts, involving large tonnages, had had to be closed.
Questioned by Mr. R. A. Webb. objecting on behalf of British Railways, Mr. D. J. McLean, a director of the applicant businesses, said they wanted the fleet normal user of 'general goods, Great Britain," for any additional vehicles granted. In reply to Mr. Hodgson he said that back loads would be available.
After hearing evidence of increased production amounting to nearly 10,000 tons a year, and of the demands of motor and aircraft manufacturers for road delivery, Mr. Hodgson said he was satisfied there was a case for some increase.
Granting four vehicles, Mr. Hodgson said it was specialized non-rail traffic and road objectors had withdrawn. He had been impressed by the witnesses.