Experience is Not Enough
23rd September 1960
Page 132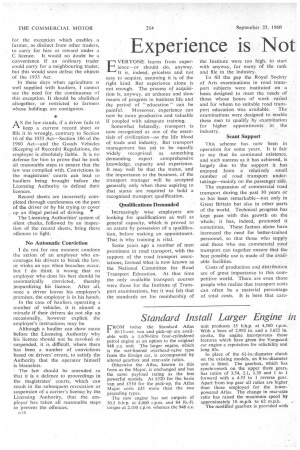 Page 133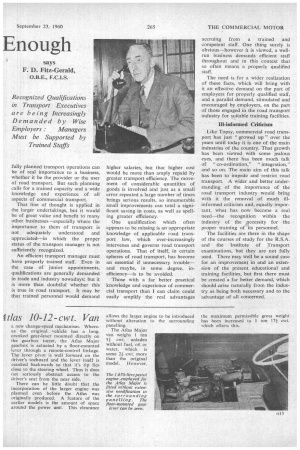 Page 132, 23rd September 1960 —
Experience is Not Enough
Close
Keywords :
says F. D. Fitz-Gerald,
0.B.E., F.C.1.S. EVERYONE learns from experience—or should do, anyway. It is, indeed, priceless and not easy to acquire, assuming it is of the right kind. But experience alone is not enough. The process of acquisition is, anyway, an arduous and slow means of progress in business life and the period of " education " can be
painful. Moreover, experience can now be more productive and valuable if coupled with adequate training.
Somewhat belatedly, transport is now recognized as one of the essentials of civilization—as the life blood of trade and industry. But ,transport management has yet to be equally widely recognized as something demanding expert comprehensive knowledge, capacity and experience. It may well be that the status, and the importance to the business, of the transport manager will be accepted generally only when those aspiring to that status are required to hold a recognized transport qualification.
Qualifications Demanded
Increasingly wise employers are looking for qualifications as well as general capacity, which is proved to an extent by possession of a qualification, before making an appointment. That is why training is vital.
Some years ago a number of men prominent in road transport, with the support of the road transport associations, formed what is now known as the National Committee for Road Transport Education. At that time the only available transport courses were those for the Institute of Transport examinations, but it was felt that the standards set for membership of the Institute were too high, to start with anyway, for many of the rank and file in the industry.
To fill the gap the Royal Society of Arts examinations in road transport subjects were instituted on a basis designed to meet the needs of those whose hours of work varied and for whom no suitable road trans port education was available. The examinations were designed to enable these men to qualify by examination for higher appointments in the industry.
Scant Support
This scheme has now been in operation for some years. It is fair to say that its continued existence, and such success as it has achieved, is largely due to the support it has enjoyed from a relatively small number of road transport undertakings—mainly on the passenger side.
The expansion of commercial road transport during the past 10 years or so has been remarkable—not only in Great Britain but also in other parts of the world. Technical progress has kept pace with this growth on the whole; it has, indeed, promoted it sometimes. These factors alone have increased the need for better-trained personnel, so that those who supply and those who use commercial road transport can together ensure that the best possible use is made of the available facilities.
Costs of production and distribution are of great importance in this competitive world. There are even those people who realize that transport costs can often be a material percentage of total costs. It is here that care fully planned transport operations can be of real importance to a business, whether it be the provider or the user of road transport. But such planning calls for a trained capacity and a wide knowledge and experience of all aspects of commercial transport.
That line of thought is applied in the larger undertakings, but it would be of great value and benefit to many other businesses—especially where the importance to them of transport is not adequately understood and appreciated—in which the proper status of the transport manager is not sufficiently recognized.
An efficient transport manager must have properly trained staff. Even in the case of junior appointments, qualifications are generally demanded in trade and industry nowadays; but it is more than doubtful whether this is true in road transport. It may be that trained personnel would demand higher salaries, but that higher cost would be more than amply repaid by greater transport efficiency. The movement of considerable quantities of goods is involved and just as a small error repeated a large number of times brings serious results, so innumerable small improvements can total a significant saving in costs, as well as spelling greater efficiency.
One qualification which often appears to be missing is an appropriate knowledge of applicable road transport law, which ever-increasingly intervenes and governs road transport operations. That of itself, in certain spheres of road transport, has become an essential if unnecessary trouble— and maybe, in some degree, inefficiency—is to be avoided.
Those with a far better practical knowledge and experience of commercial transport than I can claim could easily amplify the real advantages accruing from a trained and competent staff. One thing surely is obvious—however it is viewed, a wellrun business demands efficient staff throughout and in this context that so often means a properly qualified staff.
The need is for a wider realization of these facts, which will bring with it an effective demand on the part of employers for properly qualified staff, and a parallel demand, stimulated and encouraged by employers, on the part of those engaged in the road transport industry for suitable training facilities.
III-informed Criticism Like Topsy, commercial road transport has just " growed up" over the years until today it is one of the main industries of the country. That growth has been viewed with some jealous eyes, and there has been much talk of "co-ordination," "integration," and so on. The main aim of this talk has been to impede and restrict road transport. A wider and better understanding of the importance of the road transport industry would bring with it the removal of much illinformed criticism and, equally important, what has now become a real need—the recognition within the industry of the necessity for the proper training of its personnel.
The facilities are there in the shape of the courses of study for the R.S.A. and the Institute of Transport examinations, but they are not fully used. There may well be a sound case for an improvement in and an extension of the present educational and training facilities, but first there must be created a far better demand,which should arise naturally from the industry as being both necessary and to the advantage of all concerned.