Side Lamps for
23rd September 1960
Page 124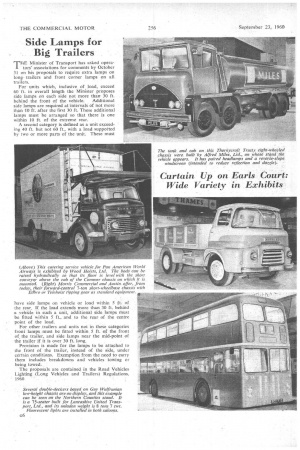 Page 124, 23rd September 1960 —
Side Lamps for
Close
Big Trailers TREMinister of Transport has asked operators' associations for comments by October 31 on his proposals to require extra lamps on longtrailers and front corner lamps on all trailers.
For units which, inclusive of load, exceed 60 ft. in overall length the Minister proposes side lamps on each side not more than 30 ft.
behind the front of the vehicle. Additional side lamps are required at intervals of not more than 10 ft. after the first 30 ft. These additional lamps must be arranged so that there is one Within 10 ft. of the extreme rear.
A second category is defined as a unit exceeding 40 ft. but not 60 ft., with a load supported by two or more parts of the unit. These must
have side lamps on vehicle or load within 5 ft. of the rear. If the load extends more than 30 ft. behind a vehicle in such a unit, additional side lamps must be fitted within 5 ft., and to the rear of the centre point of the load.
For other trailers and units not in these categories front lamps must be fitted within 5 ft. of the front of the trailer, and side lamps near the mid-point of the trailer if it is over 30 ft. long.
Provision is made for the lamps to be attached to the front of the trailer, instead of the side, under certain conditions. Exemption from the need to carry them includes breakdowns and vehicles towing or being towed.
The proposals are contained in the Road Vehicles Lighting (Long Vehicles and Trailers) Regulations, 1960