"Seven Days' Notice For Documents"
23rd September 1960
Page 123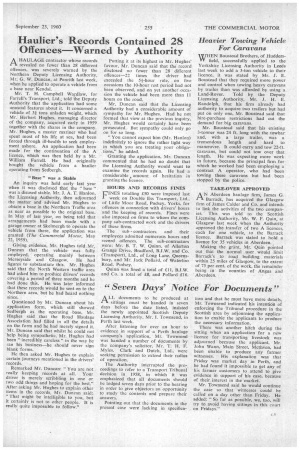 Page 123, 23rd September 1960 —
"Seven Days' Notice For Documents"
Close
ALL documents to he produced at sittings must be handed in seven days before the date listed, insisted the newly appointed Scottish Deputy Licensing Authority, Mr. I. Townsend, in Perth last week.
After listening for over an hour to evidence in support of a Perth haulage company's application, Mr. Townsend was handed a number of documents by the company's solicitor, Mr. T. H. F. Myles. Clark and Dutch,. Ltd., were seeking permission to extend their radius of operation.
The Authority interrupted the proceedings to refer to a Transport Tribunal decision in 1958, in which it was emphasized that all documents should he lodged seven days prior to the hearing in order to give objectors an opportunity to study the contents and prepare their answers.
Pointing out that the documents in the present case were lacking in specifica tion and that he must have more details, Mr. Townsend indicated his intention of enforcing the Tribunal procedure in the Scottish area by adjourning the application to enable the applicants to produce the necessary information.
There was another hitch during the sitting when an application for a new licence for transporting livestock was adjourned because the applicant, Mr: John Wann, Main Street, Methven, had been unable to produce any farmer witnesses. His explanation was that Friday was market day in Perth, and he had found it impossible to get any of his farmer customers to attend to give evidence in support of his case, because of their interest in the market.
Mr. Townsend said he would continue the, case so that witnesses could be called on a day other than Friday. He added: "So far as possible, we, too, will try to avoid having sittings in this court _ on Fridays."