Haulier's Records Contained 28 Offences Warned by Authority
23rd September 1960
Page 123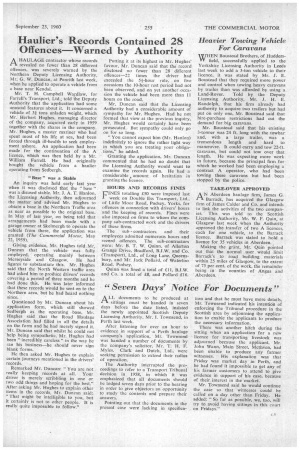 Page 123, 23rd September 1960 —
Haulier's Records Contained 28 Offences Warned by Authority
Close
AHAULAGE contractor whose records revealed no fewer than 28 different offences, was severely warned by the Northern Deputy Licensing Authority, Mr. G. W. Duncan, at Penrith last week, when he applied to operate a vehicle from a base near Kendal.
Mr. T. H. Campbell Wardlaw, for Farrell's Transport, Ltd., told the Deputy Authority that the application had some unusual features about it. It concerned a vehicle of 31 tons unladen weight, which Mr. Herbert Hughes, managing director of the company, acquired early in 1959 together with the shares in the company. Mr. Hughes, a master mariner who had spent most of his life at sea, had been forced through ill-health to seek employment ashore. An application had been made for the continuation of the A licence, which was then held by a Mr. William Farrell. He bad originally bought the vehicle from a haulier operating from Sedbergh.
"Base" was a Stable
An inquiry was held early last year when it was disclosed that the " base " was a disused stable. Mr. J. A. T. Hanlon, the Licensing Authority, then adjourned the matter and advised Mr. Hughes to obtain a base in the Northern Traffic area as near as possible to the original base. In May of last year, on being told that arrangements had been made with a garage owner at Skelmergh to operate the vehicle from there, the application was granted (The Commercial Motor, May 22, 1959).
Giving evidence, Mr. Hughes told Mr. Duncan that the vehicle was fully employed, operating mainly between Merseyside and Glasgow. He had figures to substantiate this. Mr. Hughes said that the North Western traffic area had asked him to produce drivers' records covering a period of three months and he had done this. He was later informed that these records would be sent on to the Northern area, but he had heard nothing since.
Questioned by Mr. Duncan about his application form, which still showed Sedbergh as the operating base, Mr. Hughes said that the Road Haulage Association had filled in all the details on the form and he had merely signed it. Mr. Duncan said that whilst he could not help being sympathetic, Mr. Hughes had been "incredibly careless" in the way he ran his business—he should never sign blank forms.
He then asked Mr. Hughes to explain certain journeys mentioned in the drivers' records.
Remarked Mr. Duncan: "You are not really keeping records at all. Your driver is merely scribbling in one or two odd things and hoping for the best." After asking Mr. Hughes to explain other items in the records, Mr. Duncan saith. "That might be intelligible to you, but it certainly is not to other people. It is really quite impossible to follow."
Putting it at its highest in Mr. Hughes' favour, Mr. Duncan said that the record• disclosed no fewer than 28 different offences-22 times the driver had exceeded the 51-hour rule, on five occasions the 10-hour rest period had not been observed, and on yet anothet occasion the vehicle had been more than 11 hours on the road.
Mr. Duncan said that the Licensing Authority had a considerable amount of sympathy for Mr. Hughes. Had he not formed that view at the previous inquiry, Mr. Hughes would certainly have been prosecuted. But sympathy could only go on for so long.
"You cannot expect him (Mr. Hanlon) indefinitely to ignore the rather light way in which you are treating your obligations," he added.
Granting the application, Mr. Duncan commented that he had no doubt that the Licensing Authority would want to examine the records again. He had a considerable • amount of hesitation in granting the licence.
HOURS AND RECORDS FINES
FINES totalling £50 were imposed last week on Double Ess Transport, Ltd., of Little Moor Road, Pudsey, Yorks, for offences in connection with drivers' hours and the keeping of records. Fines were also imposed on firms to whom the company sub-contracted work and the drivers of these firms.
The sub contractors and their employees admitted numerous hours and record offences. The sub-contractors were: Mr. B. T. W. Quinn, of Allerton Grange Drive, Bradford, B.J.W. and Co. (Transport), Ltd., of Long Lane, Queensbury, and Mr. Jack Pollard, of Waterloo Road, Pudsey.
Quinn was fined a total of £11, B.J.W. and Co. a total of at, and Pollard £16.
Heavier Towing Vehicle For Caravans
WHEN Boustead Brothers, of Huddersfield, successfully applied to the Yorkshire Licensing Authority in Leeds last week to add a 3-ton vehicle to their licence, it was stated by Mr. J. E. Boustead that they required more power and control when towing heavy caravans by trailer than was afforded by using a Land-Rover. Told by the Deputy Licensing Authority, Mr. J. H. E. Randolph, that his firm already had authority to acquire two trailers but had put on only one, Mr. Boustead said that hire-purchase restrictions had cut the demand for big caravans.
Mr. Boustead said that his existing 3-tonner was 24 ft. long with the towbar and, with a large trailer, was a tremendous length and hard to manceuvre. It could carry and tow 22-It. caravans, but could not tow over that length. He was expecting more work in future, because the principal firm for which he worked had been employing a contract A operator, who had been towing these caravans but had been stopped by the police.
TAKE-OVER APPROVED
AN Aberdeen haulage firm, James G. Barrack, has acquired the Glasgow firm of James Calder and Co. and intends to link the activities of the two companies. This was told to the Scottish Licensing Authority, Mr. W. F. Quin, at Glasgow last week when the Authority approved the transfer of two A licences, each for one vehicle, to the Barrack licence. Barrack was stated to hold a licence for 35 vehicles in Aberdeen.
Making the grant, Mr. Quin pointed out that the normal user would limit Barrack's to road building materials within 25 miles of Glasgow, to the extent of 75 per cent., of the work, the remainder being in the counties of Angus and Aberdeen.