Fines After Fatal Lake District Crash
23rd September 1960
Page 122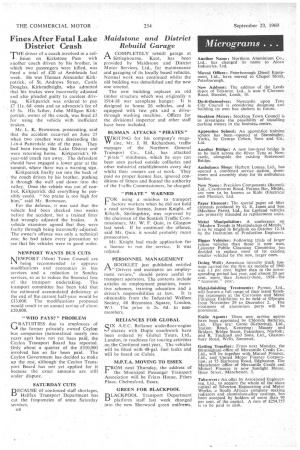 Page 122, 23rd September 1960 —
Fines After Fatal Lake District Crash
Close
THE driver of a coach involved in a coll. lision on Kirkstone Pass with another coach driven by his brother, in which two passengers were killed, was fined a total of £20 at Arnbleside last week. He was Thomas Alexander Kirkpatrick, of St. Andrews Street, Castle Douglas, Kirkcudbright, who admitted that his brakes were incorrectly adjusted and also pleaded guilty to careless driv ing. Kirkpatrick was ordered to pay £7 I Is. 6d. Costs and an advocate's fee of 15 5s. His father, John Milligan Kirkpatrick, owner of the coach, was fined £5 , for using the vehicle with inefficient brakes.
Mr. L. K. Brownson, prosecuting, said that the accident occurred on June 25 when two coaches were descending the 1-in-4 Patterdale side of the pass. They had been touring the Lake District and were returning home. Kirkpatrick's 10year-old coach ran away. The defendant should have engaged a lower gear at the summit, where there was a warning sign.
Kirkpatrick finally rail into the back of the coach driven by his brother, pushing it through the wall and down into the valley. Once the vehicle was out of control, Kirkpatrick did everything he possibly could. "No praise is too high for him,said Mr. Brownson.
For the defence, it was said that the vehicle had been checked two weeks before the accident, but a trained fitter
had wrongly adjusted the brakes. A vehicle examiner agreed that they were faulty through being incorrectly adjusted. The owner's offence was only a technical one; he had taken every precaution to see that his vehicles were in good order.
NEWPORT WANTS BUS CUTS NTEWPORT (Mon) Town Council are 1.11 being recommended to approve modifications and economies in bus services and a reduction in Sunday services, so as to reduce the financial loss of the transport undertaking. The transport committee has been told that the estimated accumulated deficiency at the end of the current half-year would be £33,000. The modifications proposed would result in an annual saving of about £20,000.
• " WHO PAYS?" PROBLEM
r RATUITIES due to employees of 11/42 the former privately owned Ceylon bus companies (nationalized nearly two years ago) have not yet been paid, the Ceylon Transport Board has reported. Only about a quarter of the £310,000 involved has so far been paid. The Ceylon Government has decided to make up the rest, although' the Ceylon Transport Board has not yet applied for it because the exact amounts are stilt under dispute.
SATURDAY CUTS
BECAUSE of continued staff shortages, Halifax Transport Department has cut the frequencies of some Saturday services.
G4