Two Artics Replace Four Rigids
23rd September 1960
Page 121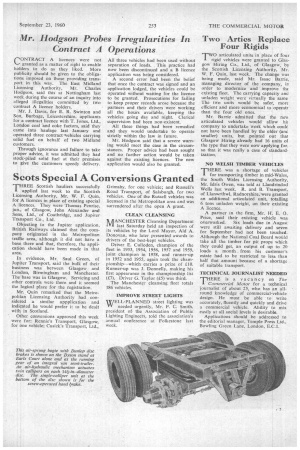 Page 121, 23rd September 1960 —
Two Artics Replace Four Rigids
Close
r0 articulated units in place of four igid vehicles were granted to Glasgow Hiring Co., Ltd., of Glasgow, by the Scottish Licensing Authority, Mr. W. F. Quin, last week. The change was being made, said Mr. Isaac Barrie: managing director of the company, in order to modernize and improve the existing fleet. The carrying capacity and unladen weight were virtually the same The two units would be safer, more efficient and more economical to operate than the four old ones.
Mr. Barrie admitted that the nem articulated vehicles would allow hii company to undertake work which could not have been handled by the older (and smaller) units, but pointed out thai Glasgow Hiring already had 16 units of the type that they were now applying for. so that it was really a case of standard. ization.
NO WELSH TIMBER VEHICLES
THERE was a shortage of vehicles for transporting timber in mid-Wales, the South Wales Licensing Authority, Mr. Idris Owen, was told at Llandrindod Wells last week. R. and B. Transport, of Llanwrthwl, Radnorshire,' were granted an additional articulated unit, totalling 6 tons unladen weight, on their existing A licence.
A partner in the firm, Mr. H. E. 0. Price, said their existing vehicle was overworked. Six loads due in August were still awaiting delivery and seven for September had not been touched. Although the National Coal Board woUld take all the timber for pit props which they could get, an output of up to 20 loads a month from his customer's estate had to be restricted to less than half that amount because of a shortage of suitable transport.
TECHNICAL JOURNALIST NEEDED
THERE is a vacancy on The Commercial Motor for a technical journalist of about 25, who has an allround knowledge of commercial-vehicle design. He must be able to write accurately, fluently and quickly and drive a commercial vehicle. Ability to mix easily at all social levels is desirable.
Applications should be addressed to the editorial manager, Temple Press Ltd., Bowling Green Lane, London, E.C.1.