Scots Special A Conversions Granted
23rd September 1960
Page 121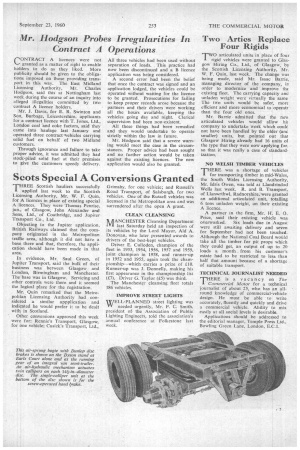 Page 121, 23rd September 1960 —
Scots Special A Conversions Granted
Close
rREE Scottish hauliers successfully applied last week to the Scottish Licensing Authority, Mr. W. F. Quin, for A licences in place of existing special A licences. They were Thomas Penrise, jun., of Glasgow, John Alexander and Sons, Ltd., of Coatbridge, and Jupiter Transport Co., Ltd.
Objecting to the Jupiter application, British Railways claimed that the company originated in the Metropolitan traffic area, although it did not have a base there and that, therefore the application should have been made in that area.
In evidence, Mr. Saul Green, of Jupiter Transport, said the bulk of their business was between Glasgow and London, Birmingham and Manchester. The base was in Glasgow. Servicing and other controls were there and it seemed the logical place for the registration.
Mr. Quin remarked that the Metropolitan Licensing Authority had considered a similar appplication and indicated he would prefer it to be dealt with in Scotland.
Other conversions approved this week were for; Rennie's Transport, Glasgow, for one vehicle; Cusick's Transport, Ltd., Grimsby, for one vehicle; and Russell's Road Transport, of Salsburgh, for two vehicles. One of the Russell vehicles was licensed in the Metropolitan area and was surrendered after the open A grant.
CLEAN CLEANSING
IVIANCHESTER Cleansing Department 11'1 last Saturday held an inspection of its vehicles by the Lord Mayor, Aid A. Donovan, who later presented awards to drivers of the best-kept vehicles.
Driver E. Culloden, champion of the fleet in 1953, 1954, 1956, 1957 and 1959, joint champion in 1958, and runner-up in 1952 and 1955, again took the championship—which carries a prize of £10. Runner-up was I. Donnelly, making his first appearance in the championship list (£7). Driver G. Taylor (£5) was third.
The Manchester cleansing fleet totals 186 vehicles.
IMPROVE STREET LIGHTS WELL-PLANNED street lighting was VV needed urgently, Mr. F. C. Smith, president of. the Association of Public Lighting Engineers, told the association's annual conference at Folkestone last week.