Should Fulland Part-load Rates
23rd September 1960
Page 120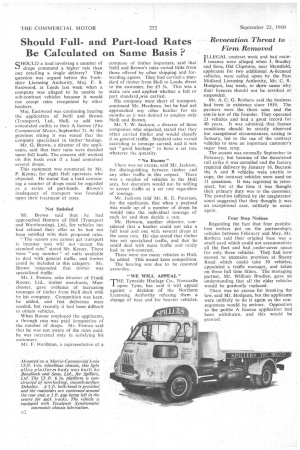 Page 120, 23rd September 1960 —
Should Fulland Part-load Rates
Close
Be Calculated on Same Basis ?
SHOULD a load involving a number of drops command a higher rate than one entailing a single delivery? This question was argued before the Yorkshire Licensing Authority, Maj. F. S. Eastwood, at Leeds last week when a company was alleged to be unable to sub-contract vehicles because it would not accept rates recognized by other hauliers.
Maj. Eastwood was continuing hearing the application of Neil and Brown (Transport), Ltd., Hull, to add two articulated outfits to their A licence (The Commercial Motor, September 2). At the previous sitting it was stated that the company specialized in timber 'haulage,
Mr. G. Brown, a director of the applicants, said that their rates were decided Upon full loads. The concern still worked on this basis even if a load contained several drops.
This statement was countered by Mr. P. Kenny, for eight Hull operators who objected. He stated that a load containing a number of drops must be regarded as a series of part-loads. Brown's inadequacy of transport was founded upon their treatment of rates.
Not Satisfied Mr. Brown said that • he had approached Hunters of Hull (Transport and Warehousing), Ltd., for vehicles but had refused their offer as he had not been satisfied with their proposed rates.
"The reason you cannot get transport is because you will not -accept the standard rate," stated Mr. Kenny. There were "any number" of units available to deal with general traffic, and timber could be included in this category. Mr. Brown responded that timber was specialized traffic.
Mr. J. Fenton, sales director of Frank Rosser, Ltd., timber merchants, Manchester, gave evidence of increasing tonnages of timber from Hull dealt with by his company. Competition was keen, he added, and fast deliveries were needed, but recently it had been difficult to obtain vehicles.
When Rosser employed the applicants, a through rate was paid irrespective of the number of drops. Mr. Fenton said that he was not aware of the rates paid; he was interested only in satisfying his customers
Mr. F. Hardman, a representative of a
company of timber importers, said that Neill and Brown's rates varied little from these offered by other shipping and forwarding agents. They had carried, a standard of timber from Hull to Leeds, direct to the customer, for £3 5s. This was• a static rate and applied whether a full at part standard twas carried.
His company were short of transport, continued Mr. Hardman, but he had not approached any other hauler for six months as it was desired to employ only Neill and Brown.
Mr. T. W. Jackson, a director of three companies who objected, stated that they often earried timber and would classify it as general traffic. Standard rates varied according to tonnage carried, and it was not "good haulage" to have a set rate whatever the Zutantity.
"No Excuse"
There was no excuse, said Mr. Jackson, for distinguishing between timber and• any other traffic in this respect. There was a surplus of vehicles in the Hull area, but operators would not be willing to accept traffic at a set rate regardless of tonnage.
Mr. Jackson told Mr. R. E. Paterson, for the applicants, that when a payload was made up of a number of drops he would take the individual tonnage of each lot and then decide a rate.
Mr. Hewson, another objector, considered that a haulier could not take a full load and one with several drops at the same rate, He also stated that timber was not specialized traffic, and that he could deal with more traffic and rarely had to sub-contract.
There were too many vehicles in Hull, he added. This meant keen competition.
The bearing was due to be resumed yesterday.
"WE WILL APPEAL"
THE Tyneside Haulage Co., Newcastle upon Tyne, has said it will appeal against a decision of the Northern Licensing Authority refusing them a change of base and for heavier vehicles.