Revocation Threat to Firm Removed
23rd September 1960
Page 120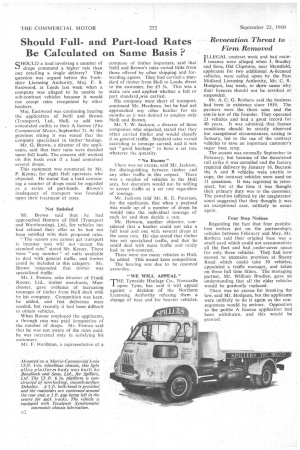 Page 120, 23rd September 1960 —
Revocation Threat to Firm Removed
Close
ILLEGAL contract work and bad maintenance were alleged when J. Bradley and Sons, Old Clipstone, near Mansfield, applicants for two additional A-licensed vehicles, were called upon by the East Midland Licensing Authority, Mr. C. RHodgson, last week, to show cause why their licences should not he revoked or suspended.
Mr. A. C, G. Rothera said the business had been in existence since 1919. The partners were the three sons and the son-in-law of the founder. They operated 21 vehicles and had a good record for 40 years. It was admitted that licence conditions should be strictly observed but exceptional circumstances, arising in January, led to the use of the contract vehicles to save an important customer's sugar beet crop.
The season was normally September to February, but because of the threatened rail strike it was curtailed and the factory required delivery by January 16. Because the A and B vehicles were unable to cope, the contract vehicles were used on 11 occasions. It was regretted in retrospect, but at the time it was thought their primary duty was to the customer. The penalties inflicted by the magistrates' court suggested that they thought it was an exceptional case, unlikely to occur again.
Four Stop Notices Regarding the fact that four prohibition notices put on the partnership's vehicles between February and May, Mr. Rothera said their original base was a small yard which could not accommodate all the fleet and had ,under-cover space for only three vehicles. They had now moved to extensive premises at Stacey Road which couldtake 50 vehicles, appointed a traffic manager, and taken on three full time fitters. The managing partner, Mr. William Bradley, gave an understanding that all the older vehicles would be gradually replaced.
There was no excuse for breaking the law, said Mr. Hodgson, but the applicants were unlikely to do it again as the consequences would he serious. Opposition to the public A licence application had been withdrawn, and this would be granted.