400 Drivers Seek Champion's Title
23rd September 1955
Page 65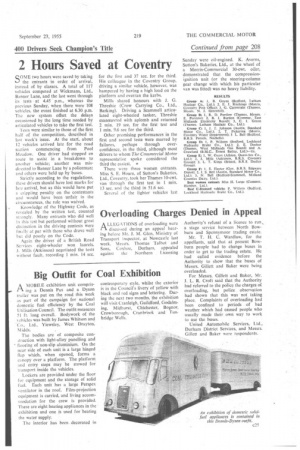 Page 65, 23rd September 1955 —
400 Drivers Seek Champion's Title
Close
2 Hours Saved at Coventry
SOME two hours were saved by taking the entrants in order of arrival, instead of by classes. A total of 117 vehicles competed at Wickmans, Ltd., Banner Lane, and the last went through its tests at 4.45 ' p.m., whereas the previous Sunday, when there were 108 vehicles, the event finished at 6.30 p.m. The new system offset the delays occasioned by the long time needed by articulated vehicles to take the first test.
Tests were similar to those of the first half of the competition, described in last week's issue. At the start, about 12 vehicles arrived late for the road section commencing from Pool Meadow. One driver had stopped en route to assist in a breakdown to another vehicle; another was misdirected to Banner Lane by a policeman; and others were held up by buses.
Strictly according to the regulations, these drivers should have lost marks for late arrival, but as this would have put crippling penalty on the contestants and would have been unfair in the circumstances, the rule was waived.
Knowledge of the Highway Code, as revealed by the written test, counted strongly. Many entrants who did well in this test but performed without great distinction in the driving contests were finally at par with those who drove well but did poorly on the Code.
Again the driver Of a British Road Services eight-wheeler won laurels. J. Mills (Atkinson) negotiated the tests without fault, recording 1 min. 14 sec. for the first and 37 sec. for the third. His colleague in the Coventry Group, driving a similar vehicle, however, was hampered by having a high load on the platform and overran the kerbs.
Mills shared honours with J. G. Threshie (Crow Carrying Co., Ltd., Barking). Driving a Scammell articulated eight-wheeled tanker, Threshie manceuvred with aplomb and returned 2 min. 19 sec. for the first test and 1 min. 9.6 sec for the third.
Other promising performances in the first and second tests were marred by failures, perhaps through overconfidence, in the third, although most drivers to whom The Commercial Motor representative spoke considered the third the easiest. •
There were three women entrants. Miss S. E. Hoare, of Sutton's Bakeries, Ltd., Coventry, took her Thames 10-cwt. van through the first test in 1 min. 13 sec. and the third in 51.6 sec.
Several of the lighter vehicles last Sunday were oil-engined. K. Averns, Sutton's Bakeries, Ltd., at the wheel of a Morris-Commercial 30-cwt. oiler, demonstrated that the compressionignition unit (or the steering-column gear change with which his particular van was fitted) was no heavy liability.
RESULTS
Group At I. B. Goyns (Bedford, Latham Haulage Co., Ltd.); 2, E. I. Ritchings (Morris, Coventry Post Office); 3, G. Cartwright (Thames, Messrs. N. I. Greenhill).
Group It; 1, R. D. Purslow (Thames, Messrs. E. Purslow); 2, R. J. Burclon (Commer, East Midlands Electricity Board); 3, C. 5. Green (Thames. Latham Haulage Co., Ltd.).
Croup C; 1, J. T. Johnson (Austin, standard
Motor Co., Ltd.);, T.. Pickering (Morris, Coventry Water Deprtment): 3 L. Ball (Bedford. B.R.S. Parcels, Nechells).
Group D: 1, P. Willetts (Bedford, Lockheed Hydraulic Brake Co., Ltd.); 2, E. Docker (Thames, West Midlands Gas Hoard) and A. Crawford (B.M.C.. Ernest Batley, Ltd.)—tie.
Group E: 1, W. Guest (Albion, Quasi-Arc Co., Ltd.); 2, J. Mills (Atkinson, B.R.S. Coventry Group); 3, L. T. Kings (Bristol, B.R.S. Dudley Group).
Group F: 1, E. Haytcr (Guy, 13,R.S. Edgware Depot); 2, 3. S. Bell (Austin, Standard Motor Co., Ltd.); 3, N. Ball (Bcdford-Scarnmell, Midland Counties Dairy. Ltd.).
Best woman entrant; Miss H. Large (Commer, Humber, Ltd.).
Best C.licensed vehicle: P. Willetts (Bedford. Lockheed Hydraulic Brake Co.. Ltd.).