Manchester Group Enters Haulage
23rd September 1955
Page 43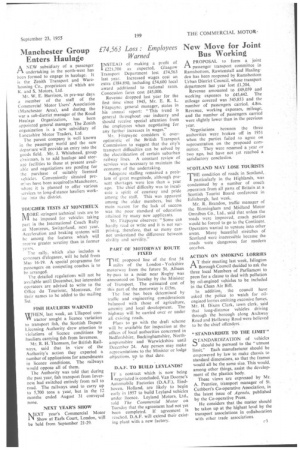 Page 43, 23rd September 1955 —
Manchester Group Enters Haulage
Close
rTh•
A NEW subsidiary of a passenger
undertaking in the north-west has been formed to engage in haulage. It is the Zenith Transport and Warehousing Co., proprietors of which are K. and S. Motors, Ltd.
Mr. W. E. Harrison, in pre-war days a member of the staff of the Commercial Motor Users' Association (Manchester Area), and during the war a sub-district manager of the Road Haulage Organization, has been appointed general manager. The Zenith organization is a new subsidiary of Lancashire Motor Traders, Ltd.
The parent company is well known in the passenger world and the new departure will provide an entry into the goods field. , Mr. J. Whitehead, group chairman, is to add haulage and storage facilities to those at present available and negotiations are pending for the purchase of suitably licensed vehicles. Conveniently situated prem'ses have been acquired in Manchester, where it is planned to offer various services to long-distance hauliers working into the district.
TOUGHER TESTS AT MONTREUX
MORE stringent technical tests are to be imposed for vehicles taking part in the International Coach Rally at Montreux, Switzerland, next year. Acceleration and braking systems will he among the features which will receive greater scrutiny than in former yea rs.
The rally, which also includes a coacours &elegance, will be held from May 16-19. A special programme for passengers on competing coaches is to be arranged.
The detailed regulations will not be available until December, but interested operators are advised to write to the Office du Tourisme, Montreux, for their names to be added to the mailing list.
FISH HAULIERS WARNED WHEN, last week, an Ullapool con'' tractor sought a licence variation to transport fish, the Scottish Deputy Licensing Authority drew attention to violations of licence conditions by hauliers carrying fish from Inverness. Mr. R. H. Thomson, for British Railways, said that in view of the Authority's action they expected a number of applications for amendments in licence conditions. The railways would oppose all of them.
The Authority was told that during the past year, fish transport from Inverness had switched entirely from rail to road. The railways used to carry up to 5,700 tons a year, but in the 12 months ended August 31 conveyed none.
NEXT YEAR'S SHOW
NEXT year's Commercial Motor Show at Earls Court, London, will be held from September 21-29.