Passing Comments
23rd September 1955
Page 40
Page 41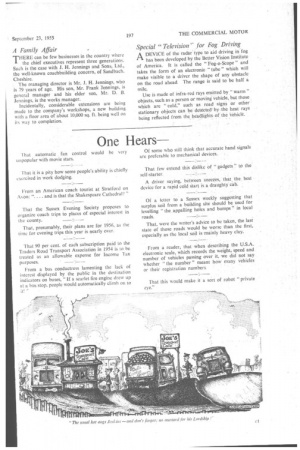 Page 40, 23rd September 1955 —
Passing Comments
Close
Road Service Licences to War Crimes
THE announcement of the death of His Honour Judge Backhouse, 0.B.E., T.D., which took place on Friday of last week at the comparatively early age of 51, will certainly have been received with the profoundest regret by many of the older members of the road transport fraternity in the North of England.
In the early days of passengerand goods-vehicle licensing, the name of T. M. Backhouse often figured as an advocate on behalf of road transport operators. He became an officer in the Judge AdvocateGeneral's Branch of the Army at the outbreak of the last war.
In 1945 he was Colonel of the War Crimes Section of the British Army in Germany. Subsequently, following the cessation of hostilities, he came prominently before the public as the prosecutor of over 40 German war criminals in connection with certain of the grave offences at the concentration camps of Belsen and Auschwitz.
A Notable Birthday
MUMEROUS friends throughout the commercial " motor industry will, today, • be congratulating Mr. William Foden, governing director of Fodens, Ltd., Sandbach, Cheshire, on reaching his 87th birthday. This grand veteran of our industry, who may be said to have been in it all his life, is more active than many a younger man.
The Commercial Motor offers him iincere good wishes and hopes that his excellent health will long continue.
A Family Affair
THERE can be few businesses in the country where 1 the chief executives represent three• generations. Such is the case with J. H. Jennings and Sons, Ltd., the well-known coachbuilding concern, of Sandbach. Cheshire.
The managing director is Mr. J. H. Jennings, who is 79 years of age. His son, Mr. Frank Jennings, is general manager and his elder son, Mr. D. B. Jennings, is the works manager.
Incidentally, considerable extensions are being made to the company's workshops, a new building_ with a floor area of about 10,000 sq. ft. being well on its way to completion.
Special "Television" for Fog Driving
A DEVICE of the radartype to aid driving in fog " has been developed by the Better Vision Institute of America. It is called the " Fog-o-Scope " and takes the form of an electronic " tube" which will make visible to a driver the shape of any obstacle on the road ahead. The range is said to be half a mile.
Use is made of infra-red rays emitted by warm" objects, such as a person or moving vehicle, but those which are "cold," such as road signs or other stationary objects can be detected by the heat rays being reflected from the headlights -of the Vehicle.