Answers to Queries.
23rd September 1915
Page 18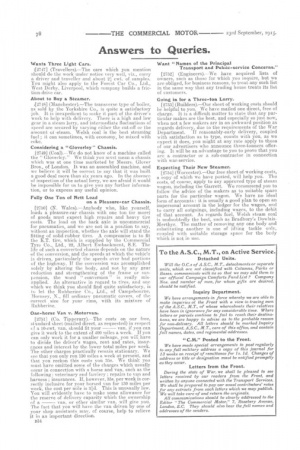 Page 18, 23rd September 1915 —
Answers to Queries.
Close
Wants Three Light Cars.
(2747] (Travellers).—The cars which you mention should do the work under notice very well, viz., carry a driver and traveller and about 2!,cwt. of samples. You might also apply to the Forest Car Co., Ltd., West Derby, Liverpool, which company builds a friction-drive car.
About to Buy a Steamer.
12748] (Manchester).—The transverse type of boiler, as sold by the Yorkshire Co., is quite a satisfactory job. It is inexpedient to make it part of the driver's work to help with delivery. There is a high and low gear in a steam lorry, and intermediate fluctuations of speed are secured by varying either the cut-off or the amount of 'steam. Welsh coal is the best steaming fuel ; it can sometimes, with economy, be mixed with coke.
Considering a "Gloverley" Chassis.
.[2749] (Coal).—We do not know of a machine called the " Oloverley." We think you must mean a chassis which was at one time marketed by Messrs. Glover Bros., of London. It was an assembled machine, and we believe it will be correct to say that it was built a good deal more than six years ago. In the absence of inspection of the actual lorry, we are afraid it would be impossible for us to give you any further information, or to express any useful opinion.
Fully One Ton of Nett Load on a Pleasure-car Chassis.
[2750] (N. Wales).—Anybody who, like yourself, loads a pleasure-car chassis with one ton (or more) of goods must expect high repairs and heavy tire costs. The load on the back axle is uncommercial for pneumatics, and we are not in a Position to say, without an inspection, whether the axle will stand the fitting of solid-rubber tires. A compromise is to fit the K.T. tire, which is supplied by the Commercial Tyre Co., Ltd., 22, Albert Embankment., S.E. The life of such a converted chassis depends on the nature of the conversion, and the speeds at which the vehiee is driven, particularly the speeds over bad portions of the highway. If the conversion was accomplished solely by altering the body, and not by any gear reduction and strengthening of the ,frame or suspension, the word " conversion" is really misapplied. An alternative in regard to tires, and one which we think you should find quite satisfactory, is to let the Rubberine Co., Ltd., of Campsbourne, Hornsey, N., fill ordinary pneumatic covers, of the correct size for your rims, with its mixture of .Rubberine.
One-horse Van v. Motorvan,
[2751] (Co. Tipperary).—The costs on our free, standard sheet (mailed direct, as requested) in respect
of a 10-cwt. van, should fit your van, if you can give it work to the extent of 400 miles a week. If you can only work it for a smaller mileage, you will have to divide the driver's wages, rent and rates, insurances and interest by the lower total miles per week. The other charges practically remain stationary. We see that you only run 130 miles a week at present, and that you reckon this costs you 35s. We think you must have omitted some of the charges which usually occur in connection with a horse and van, such as the following : veterinary and farriery ; repairs to van and harness ; insurances. If, however, 35s. per week is correctly inclusive for your horsed van for 130 miles per week, the cost per mile is 31d. This is unusually low. You will evidently have to make some allowance for the reserve of delivery capacity which the ownership
of a van, or other similar van, will give you. The fact that you will have the van driven by one of your shop assistants may, of course, help to relieve it in an important direction.
B54 Want "Names of the Principal Transport and Public-service Concerns."
[2752] (Enginecrs).—We have acquired lists of owners, such as those for which you inquire, but we are obliged, for business reasons, to treat any such list in the same way that any trading house treats its list of customers.
Going in for a Three-ton Lorry.
[2753] (Builders).—Our sheet of working costs should be helpful to you. We have mailed one direct, free of charge. It is a difficult matter to state that any particular makes are the best, and especially so just now, when not a few makers are in an awkward position as regards delivery, due to the reouirements of the War Department. If reasonably-early delivery, coupled -with satisfaction as to type, counts with you, as we expect it does, you might at any rate apply to those of our advertisers who announce three-tonners offering. It will be an advantage to you to prove that you are a contractor or a sub-contractor in connection with war-service.
Expecting Their New Steamer.
[2754] (Worcester).—Our free sheet of working costs, a copy of which we have posted, will help you. The costs, of course, apply to any approved type of steam wagon, including the Garrett. We recommend you to follow the advice of the makers as to suitable spare parts for the particular wagon. We have no ideal form of accounts.: it is usually a good plan to open an impersonal account in the ledger for the wagon, and to carry all outgoings, including wages, to the debit of that account. As regards fuel, Welsh steam coal is undoubtedly the best, such as Bradbury's DovvlaisMerthyr. The matter of removing any one body and substituting another is one of lifting tackle only, coupled with suitable storage space for the body which is not in use.