Education trust for the IRTE
23rd October 1970
Page 62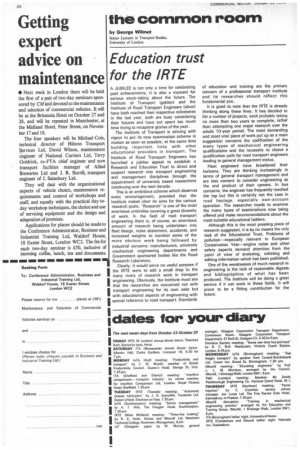 Page 62, 23rd October 1970 —
Education trust for the IRTE
Close
A JUBILEE is not only a time for celebrating past achievements, it is also a moment for serious stock-taking about the future, The Institute of Transport (golden) and the Institute of Road Transport Engineers (silver) have both reached their respective milestones in the last year, both are busy considering their futures and have not spent too much time trying to recapture glories of the past.
The Institute of Transport is striving with vigour to put its new examination scheme in motion as soon as possible, at the same time building important links with other educational providers in transport. The Institute of Road Transport Engineers has launched a jubilee appeal to establish a Research and Education Trust to direct and support research into transport engineering and management disciplines through the appointment of university based researchers continuing over the next decade.
This is an ambitious scheme which deserves every encouragement, provided that the Institute makes clear its aims for the various research posts. "'Research" is one of the most enormous umbrellas covering a great diversity of work. In the field of road transport engineering there is, of course, an enormous amount of research being undertaken into fleet design, noise abatement, accidents, and increased weights to mention some of the more obvious work being followed by industrial concerns, manufacturers, university mechanical engineering departments and Government sponsored bodies like the Road Research Laboratory.
Clearly, it would serve no useful purpose if the IRTE were to add a small drop to the many rivers of research work in transport engineering. Obviously, the Institute must see that the researches are concerned not with transport engineering for its own sake but with educational aspects of engineering with special reference to road transport. Standards of education and training are the primary concern of a professional transport institute and its researches should reflect this fundamental aim.
It is good to note that the IRTE is already thinking along these lines. It has decided to list a number of projects, each probably taking no more than two years to complete, rather than attempting one major research over the whole 10-year. period. The most demanding and most vital piece of work put up as a main suggestion concerns the codification of the many types of mechanical engineering qualifications and the necessity to cleave a qualification path for road transport engineers leading to general management status.
Fleet engineers have broadened their horizons. They are thinking increasingly in terms of general transport management and are less content to consider engineering as the end product of their careers. In bus concerns, the engineer has frequently reached the top but this is certainly not the case in road haulage, especially own-account operation. The researcher needs to examine the many types of examinations now being offered and make recommendations about the most suitable educational ladders.
Although this is the most pressing piece of research suggested, it is by no means the only task of the Educational Trust. Problems of pollution—especially relevant in European Conservation Year—engine noise and other safety aspects demand attention from the point of view of analysing, collating and editing information which has been published.
One of the weaknesses of much research in engineering is the lack of reasonable digests. and bibliographies of what has been produced. The Institute will be doing a great service if it can work in these fields. It will prove to be a fitting contribution for the future.