Q I have a 16-tan-gross four-wheeler
23rd October 1970
Page 59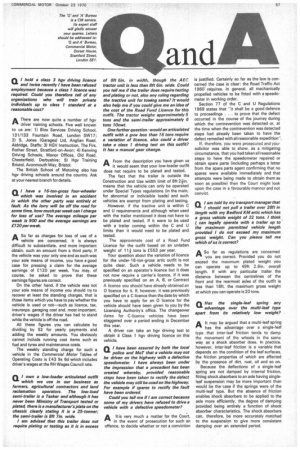 Page 59, 23rd October 1970 —
Q I have a 16-tan-gross four-wheeler
Close
which was involved in an accident in which the other party was entirely at fault. As the lorry will be off the road for some time, how much per week can I charge for loss of use? The average mileage per week is 900 and the average earnings are £120 per week.
ASo far as charges for loss of use of a
vehicle are concerned, it is always difficult to substantiate, and more important obtain, such an amount from a third party. If the vehicle was your only one and as such was your sole means of income, you have a good case for pressing a claim for the average earnings of E120 per week. You may, of course, be asked to prove that these earnings figures are correct.
On the other hand, if the vehicle was not your sole means of income you should try to recover at least the standing charges, that is those items which you have to pay whether the vehicle is used or not—such as licence, tax, insuranee, garaging cost and, most important, driver's wages if the driver has had to stand while the vehicle is off the road.
All these figures you can calculate by dividing by 52 for yearly payments and adding the weekly amounts. You obviously cannot include running cost items such as fuel and tyres and maintenance costs.
The weekly standing charge for such a vehicle in the Commercial Motor Tables of Operating Costs is £43 9s 6d which includes driver's wages at the RH Wages Council rate.