I own a low-loader articulated outfit which we use in
23rd October 1970
Page 59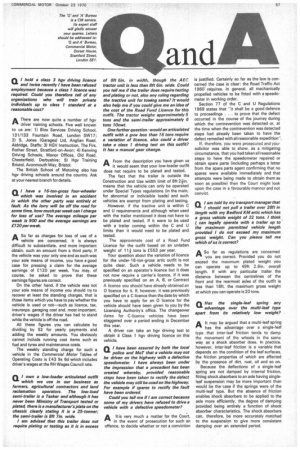 Page 59, 23rd October 1970 —
I own a low-loader articulated outfit which we use in
Close
our business as farmers, agricultural contractors and land reclamation operators, The low-load semi-trailer is a Tasker and although it has never been Ministry of Transport tested or plated, there is a manufacturer's plate on the chassis clearly stating it is a 25-tonner; the semi-trailer is 8ft lie, wide.
I am advised that this trailer does not require plating or testing as it is in excess of 8ft 6in. in width, though the AEC tractor unit is less than 8ft bin. wide. Could you tell me if the trailer does require testing and plating or not, also any ruling regarding the tractive unit for towing same? It would also help me if you could give me an idea of the cost of the Road Fund Licence for this outfit. The tractor weighs approximately 5 tons and the semi-trailer approximately 6 tons lOcwt.
One further question.. would an articulated outfit with a gvw less than 16 tons require a variation of licence, also could a driver take a class 1 driving test an this outfit? It has a manual gear change.
AFrom the description you have given us it would seem that your low-loader outfit does not require to be plated and tested.
The fact that the trailer is outside the Construction and Use width limit of 8ft 2i-in. means that the vehicle can only be operated under Special Types regulations in the main, for abnormal or indivisible loads) and such vehicles are exempt from plating and testing.
However, if the tractive unit is within C and U requirements and although when used with the trailer mentioned it does not have to be plated and tested, If it were to be used with a trailer coming within the C and U limits then it would need to be plated and tested.
The approximate Cost of a Road Fund Licence for the outfit based on an unladen weight of 11 tons is £553 per year.
Your question about the variation of licence for the under-16-ton-gross artic outfit is not quite clear. Such a vehicle needs to be specified on an operator's licence but it does not now require a carrier's licence. If it was previously specified on an A. B. or Contract A licence you should have already obtained an 0 licence for it. if, however, it was previously specified on a C licence then the date by which you have to apply for an 0 licence tor the vehicle should have been given to you by the Licensing Authority's office. The changeover dates for C-licence vehicles have been staggered over a period ending in December this year. .
A driver can take an hgv driving test to obtain a Class 1 hgv driving licence on this vehicle.
n have been assured by both the local " police and MoT that a vehicle may not be driven on the highway with a defective speedometer. I have always been under the impression that a precedent has been created whereby, provided reasonable steps have been taken to rectify the defect the vehicle may still be used on the highway. For example if spares to rectify the fault have been ordered.
Could you tell me if I am correct because some of my drivers have refused to drive a vehicle with a defective speedometer?
AIt is very much a matter for the Court, in the event of prosecution for such an offence, to decide whether or not a conviction
is justified. Certainly so far as the law is concerned the case is clear: the Road Traffic Act 1960 requires. in general, all mechanically propelled vehicles to be fitted with a speedometer in working order.
Section 77 of the C and U Regulations 1969 states that -it shall be a good defence to proceedings . . . to prove that the defect occurred in the course of the journey during which the contravention was detected or, at the time when the contravention was detected steps had already been taken to have the defect remedied with all reasonable expedition".
If, therefore, you were prosecuted and your solicitor was able to show, as a mitigating circumstance, that you had taken all reasonable steps to have the speedometer repaired or obtain spare parts (including perhaps a letter from the spare parts agent confirming that no spares were available immediately and that attempts were being made to obtain them as soon as possible) then the Court might look upon the case in a favourable manner and not convict.