I hold a class 3 hgv driving licence and twice
23rd October 1970
Page 59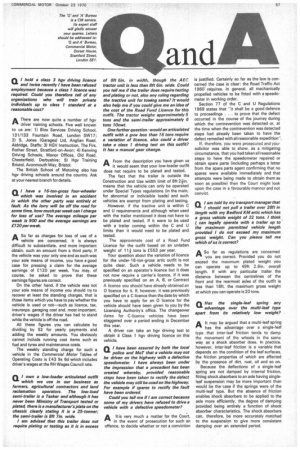 Page 59, 23rd October 1970 —
I hold a class 3 hgv driving licence and twice
Close
recently I have been refused employment because a class 1 licence was required. Could you therefore tell of any organizations who will train private individuals up to class 1 standard at a reasonable cast?
AThere are now quite a number of hgv
driver training schools. Five well known to us are: 1) Blox Services Driving School, 131/133 Fountain Road, London SW17; 2) S. Jones (Garages) Ltd, Anglian Road, Aldridge, Staffs; 31 HGV Instruction, The Firs, Rather Street, Stratford-on-Avon; 4) Kenning Driving Schools, Manor Offices, Old Road, Chesterfield, Derbyshire; 51 Hgv Training Bristol. Avonmouth Way, Bristol.
The British School of Motoring also has hgv driving schools around the country. Ask at your nearest branch for details.