bird's eye view
23rd October 1970
Page 42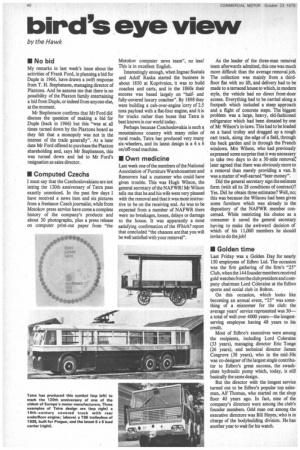 Page 42, 23rd October 1970 —
bird's eye view
Close
by the Hawk • No bid
My remarks in last week's issue about the activities of Frank Ford, in planning a bid for Duple in 1966, have drawn a swift response from T. H. Stephenson, managing director of Plaxtons. And he assures me that there is no possibility of the Plaxton family entertaining a bid from Duple, or indeed from anyone else, at the moment.
Mr Stephenson confirms that Mr Ford did discuss the question of making a bid for Duple (back in 1966) but this "was at all times turned down by the Plaxtons board as they felt that a monopoly was not in the interest of the trade generally". At a later date Mr Ford offered to purchase the Plaxton shareholding and, says Mr Stephenson, this was turned down and led to Mr Ford's resignation as sales director.
• Computed Czechs
I must say that the Czechoslovakians are not letting the 120th anniversary of Tatra pass exactly unnoticed. In the past few days I have received a news item and six pictures from a freelance Czech journalist, while from Motokov press service have come a complete history of the company's products and about 30 photographs, plus a press release on computer print-out paper from "the Motokov computer news team", no less! This is in excellent English.
Interestingly enough, when Ingnac Sustala and Adolf Raska started the business in about 1850 at Koprivnice, it was to build coaches and carts, and in the 1860s their success was based largely on "halfand fully-covered luxury coaches". By 1898 they were building a cab-over-engine lorry of 2.5 tons payload with a fiat-four engine, and it is for trucks rather than buses that Tatra is best known in our world today.
Perhaps because Czechoslovakia is such a mountainous country with many miles of rural roads, Tatra has produced very many six-wheelers, and its latest design is a 6 x 6 on/off-road machine.
• Own medicine
Last week one of the members of the National Association of Furniture Warehousemen and Removers had a customer who could have given trouble. This was Hugh Wilson, the general secretary of the NAFWR! Mr Wilson tells me that he and his wife were very pleased with the removal and that it was most instructive to be on the receiving end. As was to be expected from a member of NAFWR there were no breakages, losses, delays or damage to the house. It was apparantly a most satisfying confirmation of the Which? report that concluded "the chances are that you will be well satisfied with your removal". As the leader of the three-man removal team afterwards admitted, this one was much more difficult than the average removal job. The collection was mainly from a thirdfloor fiat with no lift, and delivery had to be made to a terraced house to which, in modern style, the vehicle had no direct front-door access. Everything had to be carried along a footpath which included a steep approach and a flight of concrete steps. The biggest problem was a large, heavy, old-fashioned refrigerator which had been donated by one of Mr Wilson's in-laws. This had to be loaded on a hand trolley and dragged up a rough cart track, along the edge of a field, through the back garden and in through the French windows. Mrs Wilson, who had previously expressed some surprise that it was necessary to take two days to do a 30-mile removal; later agreed that there was obviously more to a removal than merely providing a van. It was a matter of well-earned "beer-money".
Did the general secretary sign the estimate form (with all its 28 conditions of contract)? Yes. Did he obtain three estimates? Well, no; this was because the Wilsons had been given some furniture which was already in the depository of the NAFWR member concerned. While restricting his choice as a consumer it saved the general secretary having to make the awkward decision of which of his 11,000 members he should invite to do the job!
• Golden time
Last Friday was a Golden Day for nearly 150 employees of Edbro Ltd. The occasion was the first gathering of the firm's "25" Club, whenthe 144 founder members received gold watches from the club president and company chairman Lord Coleraine at the Edbro sports and social club in Bolton.
On this occasion, which looks like becoming an annual event, "25" was something of a misnomer for the club: the average years' service represented was 30a total of well over 4000 years—the longestserving employee having 48 years to his credit.
Most of Edbro's executives were among the recipients, including Lord Coleraine (33 years), managing director Eric Tonge (26 years), and technical director James Cosgrove (38 years), who in the mid-30s was co-designer of the largest single contributor to Edbro's great success, the swashplate hydraulic pump which, today, is still basically the same design.
But the director with the longest service turned out to be Edbro's popular top salesman, Alf Thomas, who started on the shop floor 40 years ago. In fact, nine of the company's directors were among the club's founder members. Odd man out among the executive directors was Bill Heyes, who is in charge of the bodybuilding division. He has another year to wait for his watch.