TML no recipe for professionalism
23rd October 1970
Page 40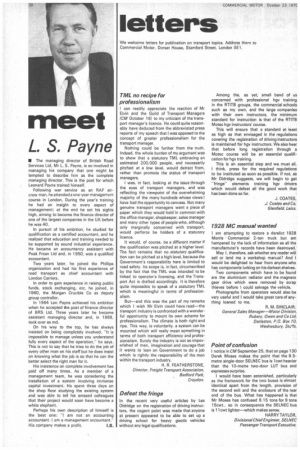 Page 40, 23rd October 1970 —
TML no recipe for professionalism
Close
I can readily appreciate the reaction of Mr Elvin and the Guild of Transport Managers (CM October 161 to my criticism of the transport manager's licence. He could quite reason. ably have deduced from the abbreviated press reports of my speech that I was opposed to the concept of greater professionalism for the transport manager.
Nothing could be further from the truth. Indeed, the whole burden of my argument was to show that a statutory TML embracing an estimated 200,000 people, and necessarily pitched at a low level, would detract from. rather than promote the status of transport managers.
i was, in fact, looking at the issue through the eyes of transport managers, and was reflecting the viewpoint of the overwhelming majority of the many hundreds whose views I have had the opportunity to canvass. Not many genuine transport managers want a piece of paper which they would hold in common with the office manager, shopkeeper, sales manager and many other types of people who, although only marginally concerned with transport, would perforce be holders of a statutory licence.
It would, of course, be a different matter if the qualification was pitched at a higher level. The fact remains that no statutory qualification can be pitched at a high level, because the Government's responsibility here is limited to road safety. Its scope is, in fact, circumscribed by the fact that the TML was intended to be linked to operator's licensing, and the Transport Act is drafted accordingly. It is therefore quite impossible to speak of a statutory TML which is meaningful in terms of professionalism.
But—and this was the part of my remarks which I wish Mr Elvin could have read—the transport industry is confronted with a wonderful opportunity to mount its own scheme for professionalism. The climate is both right and ripe. This way, ie voluntarily, a system can be mounted which will really mean something in terms of both transport efficiency and professionalism. Surely the industry is not so impoverished of men, imagination and courage that it wants to lean on Government to do a job which is rightly the responsibility of the men within the transport industry.
H. R. FEATHERSTONE. Director, Freight Transport Association, Bedford Park, Croydon.