meet
23rd October 1970
Page 40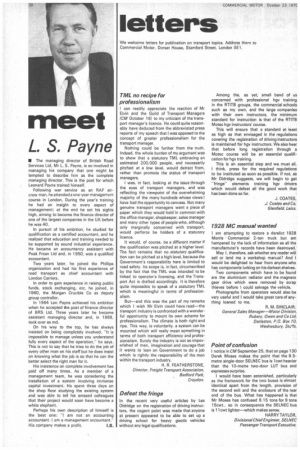 Page 40, 23rd October 1970 —
meet
Close
L. S. Payne
IN The managing director of British Road Services Ltd, Mr L. S. Payne, is so involved in managing his company that one might be tempted to describe him as the complete managing director. This is the post for which Leonard Payne trained himself.
Following war service as an RAF aircrew man, he attended a one-year management course in London. During the year's training he had an insight to every aspect of management; at the end he set his sights high, aiming to become the finance director of one of the largest companies in the UK before he was 40.
In pursuit of his ambition, he studied for qualification as a certified accountant, and he realized that education and training needed to be supported by sound industrial experience. He became an accountancy assistant with Peak Frean Ltd and, in 1950, was a qualified accountant.
Two years later, he joined the Phillips organization and had his first experience of road transport as chief accountant with London Carriers.
In order to gain experience in raising public funds, stock exchanging, etc, he joined, in 1960, the Morgan Crucible Co as deputy group controller.
In 1964 Len Payne achieved his ambition when he accepted the post of finance director of BRS Ltd. Three years later he became assistant managing director and, in 1969, took over as md.
On his way to the top, he has always insisted on being completely involved. "It is impossible to manage unless you understand fully every aspect of the operation," he says. This is not to say that he tries to do the job of every other man on his staff but he does insist on knowing what the job is so that he can the better select the right man for it.
His insistence on complete involvement has paid off many times. As a member of a management team, he was considering the installation of a system involving immense capital investment. He spent three days on the shop floor studying the existing system and was able to tell his amazed colleagues that their project would soon have become a white elephant.
Perhaps his own description of himself is the best one: "I am not an accounting accountant. I am a management accountant."
His company makes a profit. I .S.