'Probation' for Stamford haulier
23rd October 1970
Page 37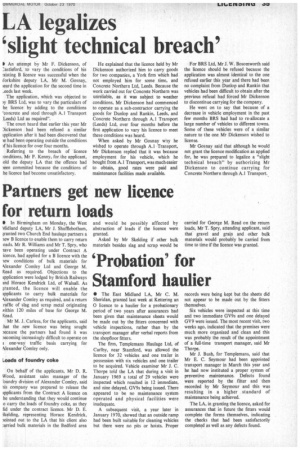 Page 37, 23rd October 1970 —
'Probation' for Stamford haulier
Close
• The East Midland LA, Mr C. M. Sheridan, granted last week at Kettering an 0 licence to a haulier for a probationary period of two years after assurances had been given that maintenance sheets would be made out by the fitters concerned with vehicle inspections, rather than by the transport manager after verbal reports from the shopfloor fitters.
The firm, Templemans Haulage Ltd, of Carlby, near Stamford, was allowed the licence for 32 vehicles and one trailer in possession with six vehicles and one trailer to be acquired. Vehicle examiner Mr J. C. Thorpe told the LA that during a visit in January 1959 a total of 29 vehicles were inspected which resulted in 12 immediate, and nine delayed, GV9s being issued. There appeared to be no maintenance system operated and physical facilities were inadequate.
A subsequent visit, a year later in January 1970, showed that an outside ramp had been built suitable for cleaning vehicles but there were no pits or hoists. Proper records were being kept but the sheets did not appear to be made out by the fitters themselves.
Six vehicles were inspected at this time and two immediate GV9s and one delayed GV9 were issued. The most recent visit, two weeks ago, indicated that the premises were much more organized and clean and this was probably the result of the appointment of a full-time transport manager, said Mr Thorpe.
Mr J. Bush, for Templemans, said that Mr E. C. Seymour had been appointed transport manager in March this year and he had now instituted a proper system of preventive maintenance. Defects found were reported by the fitter and then recorded by Mr Seymour and this was resulting in a higher standard of maintenance being achieved.
The LA, in granting the licence, asked for assurances that in future the fitters would complete the forms themselves, indicating the checks that had been satisfactorily completed as well as any defects found.