LA legalizes 'slight technical breach'
23rd October 1970
Page 37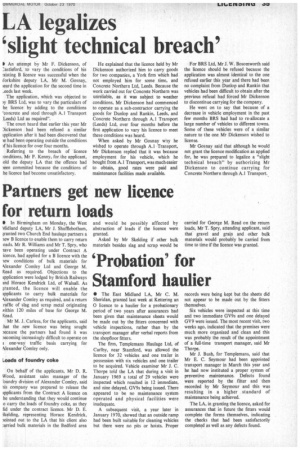 Page 37, 23rd October 1970 —
LA legalizes 'slight technical breach'
Close
An attempt by Mr F. Dickenson, of 2astleford, to vary the conditions of his :xisting B licence was successful when the (orkshire deputy LA, Mr M. Gosnay, ward the application for the second time in xeds last week.
The application, which was objected to )3! BRS Ltd, was to vary the particulars of he licence by adding to the conditions 'concrete and steel through A.1 Transport Leeds) Ltd as required".
The court heard that earlier this year Mr 3ickenson had been refused a similar ipplication after it had been discovered that le had been operating outside the conditions If his licence for over four months.
Referring to the breach of licence ;onditions, Mr P. Kenny, for the applicant, old the deputy LA that the offence had xsen committed because the conditions of he licence had become unsatisfactory. He explained that the licence held by Mr Dickenson authorized him to carry goods for two companies, a York firm which had not employed him for some time, and Concrete Northern Ltd, Leeds. Because the work carried out for Concrete Northern was unreliable, as it was subject to weather conditions, Mr Dickenson had commenced to operate as a sub-contractor carrying the goods for Dunlop and Rankin, Leeds, and Concrete Northern through A.1 Transport (Leeds) Ltd, over four months before the first application to vary his licence to meet these conditions was heard.
When asked by Mr Gosnay way he wished to operate through A.1 Transport, Mr Dickenson replied that it was because employment for his vehicle, which he bought from A.1 Transport, was much easier to obtain, good rates were paid and maintenance facilities made available. For BRS Ltd, Mr J. W. Bosomworth said the licence should be refused because the application was almost identical to the one refused earlier this year and there had been no complaint from Dunlop and Rankin that vehicles had been difficult to obtain after the previous refusal had forced Mr Dickenson to discontinue carrying for the company.
He went on to say that because of a decrease in vehicle employment in the past few months BRS had had to re-allocate a large number of vehicles to different towns. Some of these vehicles were of a similar nature to the one Mr Dickenson wished to licen se.
Mr Gosnay said that although he would not grant the licence modification as applied for, he was prepared to legalize a "slight technical breach" by authorizing Mr Dickenson to continue carrying for Concrete Northern through A.1 Transport._