South-west transport crisis
23rd October 1970
Page 32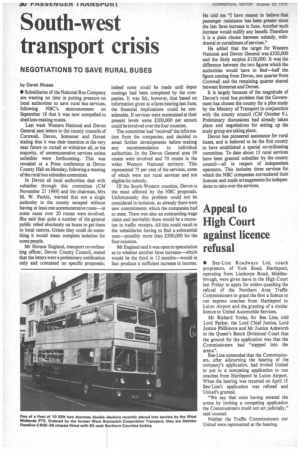 Page 32, 23rd October 1970 —
South-west transport crisis
Close
NEGOTIATIONS TO SAVE RURAL BUSES
by Derek Moses • Subsidiaries of the National Bus Company are wasting no time in putting pressure on local authorities to save rural bus services, following NBC's announcement on September 18 that it was now compelled to shed loss-making routes.
Last week Western National and Devon General sent letters to the county councils of Cornwall, Devon, Somerset and Dorset stating that it was their intention in the very near future to curtail or withdraw all, or the majority, of unremunerative services unless subsidies were forthcoming. This was revealed at a Press conference at Devon County Hall on Monday, following a meeting of the rural bus subsidies committee.
In Devon all local authorities deal with subsidies through this committee (CM November 21 1969) and the chairman, Mrs M. W. Parkin, warned that not a single authority in the county escaped without having at least one unremunerative route—in some cases over 20 routes were involved. She said that quite a number of the general public relied absolutely on buses to get them to local centres. Unless they could do something it would mean complete isolation for some people.
Mr Horace England, transport co-ordinating officer, Devon County Council, stated that the letters were a preliminary notification only and contained no specific proposals; indeed none could be made until depot c.ostings had been completed by the companies. It was felt, however, that based on information given at a fares hearing last June, the financial implications could be considerable. If services were maintained at their present levels some 1200,000 per annum could be involved over the four counties.
The committee had 'received' the information from the companies, and decided to await further developments before making any recommendation to individual authorities. In the Devon General area 59 routes were involved and 70 routes in the wider Western National territory. This represented 75 per cent of the services, some of which were not rural services and not eligible for subsidy.
Of the South-Western counties, Devon is the most affected by the NBC proposals. Unfortunately this problem could not be considered in isolation, as already there were new commitments which the companies had to meet. There was also an outstanding wage claim and inevitably there would be a recession in traffic receipts. All this could result in the subsidiaries having to find a substantial sum—possibly more than £500,000 for the four counties.
Mr England said it was open to speculation as to whether another fares increase—which would be the third in 12 months—would in fact produce a sufficient increase in income. He told me "I have reason to believe that passenger resistance has been greater since the last fares increase in June. Another such increase would nullify any benefit. Therefore it is a plain choice between subsidy, withdrawal or curtailment of services."
He added that the target for Western National and Devon General was 1320,000 and the likely surplus £126,000. It was the difference between the two figures which the authorities would have to find—half the figure coming from Devon, one quarter from Cornwall and the remaining quarter shared between Somerset and Dorset.
It is largely because of the magnitude of Devon's rural bus problem that the Government has chosen the county for a pilot study by the Ministry of Transport in conjunction with the county council (CM October 9.). Preliminary discussions had already taken place and negotiations for setting up the study group are taking place.
Devon has pioneered assistance for rural buses, and is believed to be the first county to have established a special co-ordinating committee. To date about 15 rural services have been granted subsidies by the county council—all in respect of independent operators. This includes three services for which the NBC companies surrendered their Licences and made arrangements for independents to take over the services.