container
23rd October 1970
Page 31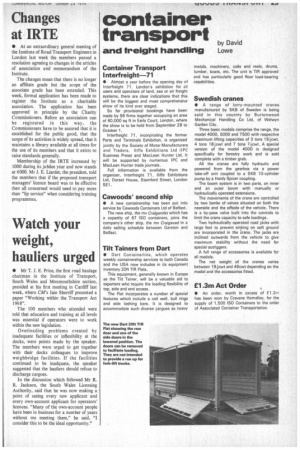 Page 31, 23rd October 1970 —
container
Close
transport by David and freight handling Lowe
Container Transport I nte rf reig ht-7
• Almost a year before the opening day of Interfreight 71, London's exhibition for all users and operators of land, sea or air freight systems, there are clear indications that this will be the biggest and most comprehensive show of its kind ever staged.
So far provisional bookings have been made by 56 firms together occupying an area of 60,000 sq ft in Earls Court, London, where the show is to be held from September 28 to October 1.
Interfreight 71, incorpirating the former Ports and Terminals Exhibition, is organized jointly by the Society of Motor Manufacturers and Traders, Iliffe Exhibitions Ltd (IPC Business Press) and MacLean Hunter Ltd. It will be supported by numerous IPC and MacLean Hunter trade journals.
Full information is available from the organizer, Interfreight 71, Iliffe Exhibitions Ltd, Dorset House, Stamford Street, London SE1 .
Cawoods' second ship
• A new containership has been put into service by Cavvoods Containers Ltd of Belfast.
The new ship, the my Craigantlet which has a capacity of 67 ISO containers, joins the company's other ship, the my Craigavad in a daily sailing schedule between Garston and Belfast.
lilt Tainers from Dart
• Dart Containerline, which operates weekly containership services to both Canada and the USA now includes in its equipment inventory 20ft TIR Flats.
This equipment, generally known in Europe as the Tilt Tainer, will be a valuable aid to exporters who require the loading flexibility of top, side and end access.
The Flat incorporates a number of special features which include a coil well, bull rings and side lashing bars. It is designed to accommodate such diverse pargoes as heavy
metals, machinery, coils and reels, drums, lumber, boats, etc. The unit is TIR approved and has particularly good floor load-bearing capabilities.
Swedish cranes
• A range of lorry-mounted cranes manufactured by SKB of Sweden is being sold in this country by Burtonwood Mechanical Handling Co Ltd, of Welwyn Garden City.
Three basic models comprise the range, the model 4000, 5000 and 7500 with respective maximum lifting capacities of 3 tons 181cwt, 4 tons 181-cwt and 7 tons 7+cwt. A special version of the model 4000 is designed specifically for forestry work and is sold complete with a timber grab.
All the cranes are fully hydraulic and powered from the gearbox via a power take-off unit coupled to a SKB 10-cylinder pump by a Hardy Spicer coupling.
The boom system is in two parts, an inner and an outer boom with manually or hydraulically operated extensions.
The movements of the crane are controlled by two banks of valves situated on both the nearside and the offside of the vehicle. There is a by-pass valve built into the controls to limit the crane capacity to safe loadings.
Two hydraulically operated road jacks with large feet to prevent sinking on soft ground are incorporated in the crane. The jacks are inclined outwards from the vehicle to give maximum stability without the need for special outriggers.
A full range of accessories is available for all models.
The net weight of the cranes varies between 19-icwt and 49cwt depending on the model and the accessories fitted.
el .3m Act Order
• An order, worth in excess of E1.3m has been won by Cravens Homalloy, for the supply of 1,500 ISO Containers to the order of Associated Container Transportation.