The biggest step forward since pneumatic tyres
23rd October 1970
Page 29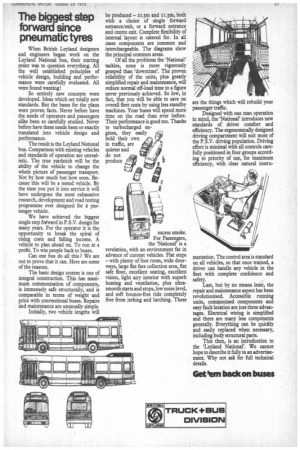 Page 29, 23rd October 1970 —
The biggest step forward since pneumatic tyres
Close
When British Leyland designers and engineers began work on the Leyland National bus, their starting point was to question everything. All the well established principles of vehicle design, building and performance were carefully evaluated. All were found wanting!
So entirely new concepts were developed. Ideas which set totally new standards. But the bases for the plans were proven facts. Never before have the needs of operators and passengers alike been so carefully studied. Never before have these needs been so exactly translated into vehicle design and performance.
The result is the Leyland National bus. Comparison with existing vehicles and standards of operation are unrealistic. The true yardstick will be the ability of the vehicle to change the whole picture of passenger transport. Not by how much but how soon. Because this will be a tested vehicle. By the time you put it into service it will have undergone the most exhaustive research, development and road testing programme ever designed for a passenger vehicle.
We have achieved the biggest single step fotward in P.S.V. design for many years. For the operator it is the opportunity to break the spiral of rising costs and falling income. A vehicle to plan ahead on. To run at a profit. To win people back to buses.
Can one bus do all this ? We are out to prove that it can. Here are some of the reasons.
The basic design system is one of integral construction. This has maximum commonisation of components, is immensely safe structurally, and is comparable in terms of weight and price with conventional buses. Repairs and maintenance are unusually simple.
Initially, two vehicle lengths will be produced — to.3m and ii.m, both with a choice of single forward entranceexit, or a forward entrance and centre exit. Complete flexibility of internal layout is catered for. In all cases components are common and interchangeable. The diagrams show the principal common areas.
Of all the problems the 'National' tackles, none is more vigorously grasped than 'downtime'. The proven reliability of the units, plus greatly simplified repair and maintenance, will reduce normal off-load time to a figure never previously achieved. So low, in fact, that you will be able to save on overall fleet costs by using less standby machines. Your buses will spend more time on the road than ever before. Their performance is good too. Thanks to turbocharged engines, they easily hold their own in traffic, are quieter and do not produce excess smoke. For Passengers, the 'National' is a revelation, with an environment far in advance of current vehicles. Flat steps — with plenty of foot room, wide doorways, large fiat fare collection area, flat safe floor, excellent seating, excellent vision, light airy interior with superb heating and ventilation, plus ultrasmooth starts and stops, low noise level, and soft bounce-free ride completely free from jerking and lurching. These are the things which will rebuild your passenger traffic. Designed with one man operation in mind, the 'National' introduces new standards of driver comfort and efficiency. The ergonomically designed driving compartment will suit most of the P. S.V. driving population. Driving effort is minimal with all controls carefully positioned in four groups according to priority of use, for maximum efficiency, with clear natural instru mentation. The control area is standard on all vehicles, so that once trained, a driver can handle any vehicle in the fleet with complete confidence and safety, Last, but by no means least, the repair and maintenance aspect has been revolutionised. Accessible running units, commonised components and easy fault location are just three advantages. Electrical wiring is simplified and there are many less components generally. Everything can be quickly and easily replaced when necessary, including body structural parts.
This then, is an introduction to the 'Leyland National'. We cannot hope to describe it fully in an advertisement. Why not ask for full technical details.
Get9em backon buses