Pictures on the right:
23rd October 1970
Page 25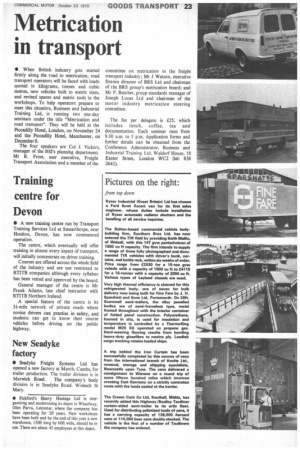 Page 25, 23rd October 1970 —
Pictures on the right:
Close
from top down
Kysor Industrial (Great Britain) Ltd has chosen a Ford 8cwt Escort van for its first sales engineer, whose duties include installation of Kysor automatic radiator shutters and the handling of all service inquiries.
The Bolton-based commercial vehicle bodybuilding firm, Southern Bros Ltd, has now entered the T1R field by providing Keith Mallin, of Walsall, with this 14T gvw pantechnicon of 1850 Cu ft capacity. The firm intends to supply a range of three fully photographed and documented TIR vehicles with driver's bunk, curtains, and bottle rack, within six weeks of order. Price range from £2530 for a 10-ton gvw vehicle with a capacity of 1500 cu ft to £4115 for a 16-tonner with a capacity of 2000 cu ft. Various types of Leyland chassis are used.
Very high thermal efficiency is claimed for this refrigerated body, one of seven for bulk delivery now being built for Fine Fare by J. H. Sparshatt and Sons Ltd, Portsmouth. On 26ft. Scammell semi-trailers, the alloy panelled bodies are of semi-frameless type, metal framed throughout with the interior container of folded panel construction. Polyurethane, foamed in situ, is used for insulation and temperature is controlled by a ThermoKing model M20 OG operated on propane gas. Hard-wearing flooring results from bonding heavy-duty glassfibre to marine ply. Loadlok cargo tracking retains loaded skips.
A trip behind the Iron Curtain has been successfully completed by this convoy of vans from the international branch of Hoults Ltd" removal, storage and shipping specialists, Newcastle upon Tyne. The vans delivered a consignment to Warsaw on a round trip of some fifteen hundred miles which involved crossing East Germany on a strictly controliee route with the loads sealed at the border.
The Crown Cork Co Ltd, Southall, Middy, has recently added this Highway /Boalloy Tautliner curtain-sided semi-trailer to its artic fleet. Used for distributing palletized loads of cans, it has a carrying capacity of 138,000 Aerosol cans or 114,000 beer cans double stacked. The vehicle is the first of a number of Tautfiners the company has ordered.