Metrication in transport
23rd October 1970
Page 25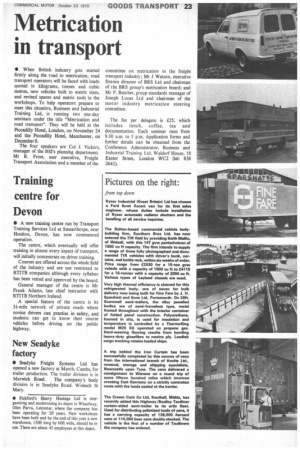 Page 25, 23rd October 1970 —
Metrication in transport
Close
• When British industry gets started firmly along the road to metrication, road transport operators will be faced with loads quoted in kilograms, tonnes and cubic metres, new vehicles built to metric sizes, and revised spares and metric tools in the workshops. To help operators prepare to meet this situation, Business and Industrial Training Ltd, is running two one-day seminars under the title "Metrication and road transport". They will be held at the Piccadilly Hotel, London, on November 24 and the Piccadilly Hotel, Manchester, on December 8.
The four speakers are Col J. Vickers, manager of the BSI's planning department; Mr R. Frost, user executive, Freight Transport Association and a member of the committee on metrication in the freight transport industry; Mr J Watson, executive finance director of BRS Ltd and chairman of the BRS group's metrication board; and Mr F. Butcher, group standards manager of Joseph Lucas Ltd and chairman of the motor industry metrication steering committee.
The fee per delegate is £25, which includes lunch, coffee, tea and documentation. Each seminar runs from 9.30 a.m. to 5 p.m. Application forms and further details can be obtained from the Conference Administrator, Business and Industrial Training Ltd, Waldorf House, 18 Exeter Street, London WC2 (tel: 836 2641).