The next ten years
23rd October 1970
Page 23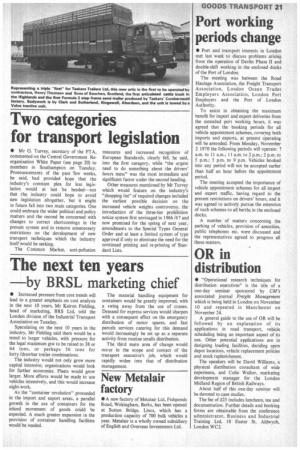 Page 23, 23rd October 1970 —
The next ten years
Close
by BRSL marketing chief
• Increased pressure from cost trends will lead to a greater emphasis on cost analysis in the next 10 years, Mr Keiron Fielding, head of marketing, BRS Ltd, told the London division of the Industrial Transport Association on Tuesday.
Speculating on the next 10 years in the industry, Mr Fielding said there would be a trend to larger vehicles, with pressure for the legal maximum gtw to be raised to 38 or 44 tons, or perhaps 56 tons for lorry/drawbar trailer combinations.
The industry would not only grow more capital intensive; organizations would look for further economies. Fleets would grow larger. More efforts would be made to use vehicles intensively, and this would increase night-work.
As the "container revolution" proceeded in the import and export areas, a parallel growth in the use of containers for the inland movement of goods could be expected. A much greater expansion in the provision of container handling facilities would be needed. The material handling equipment for containers would be greatly improved, with a swing away from the use of cranes. Demand for express services would sharpen with a consequent effect on the emergency distribution of motor spares, and fast parcels services catering for this demand would increasingly be set up as a separate activity from routine smalls distribution.
The third main area of change would occur in the scope and contact of the transport executive's job, which would rapidly widen into that of distribution management.