Less power for Mr Peyton
23rd October 1970
Page 22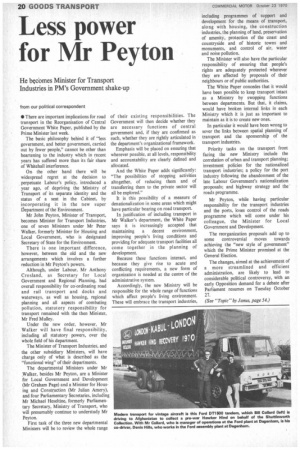 Page 22, 23rd October 1970 —
Less power for Mr Peyton
Close
Keywords :
Secretary Of State For Transport
,
Secretary Of State For The Environment
,
Department For Transport
,
New Zealand Cabinet
,
Minister For Transport, Infrastructure And Climate Change
,
John Peyton, Baron Peyton Of Yeovil
,
Scottish Government
,
First Manmohan Singh Cabinet
,
Politics
He becomes Minister for Transport Industries in PM's Government shake-up
from our political correspondent • There are important implications for road transport in the Reorganisation of Central Government White Paper, published by the Prime Minister last week.
The basic philosophy behind it of "less government, and better government, carried out by fewer people," cannot be other than heartening to the industry which in recent years has suffered more than its fair share of Whitehall interference.
On the other hand there will be widespread regret at the decision to perpetuate Labour's policy, introduced a year ago, of depriving the Ministry of Transport of its separate identity and the status of a seat in the Cabinet, by incorporating it in the new super Department of the Environment.
Mr John Peyton, Minister of Transport, becomes Minister for Transport Industries, one of seven Ministers under Mr Peter Walker, formerly Minister for Housing and Local Government, who is designated Secretary of State for the Environment.
There is one important difference, however, between the old and the new arrangements which involves a further reduction in Mr Peyton's powers.
Although, under Labour, Mr Anthony Crosland, as Secretary for Local Government and Regional Planning, had overall responsibility for co-ordinating road and rail transport and docks and waterways, as well as housing, regional planning and all aspects of combating pollution, statutory responsibility for transport remained with the then Minister, Mr Fred Mulley.
Under the new order, however, Mr Walker will have final responsibility, including all statutory powers, over the whole field of his department.
The Minister of Transport IndustrieS, and the other subsidiary Ministers, will have charge only of what is described as the "functional wing" of their departments.
The departmental Ministers under Mr Walker, besides Mr Peyton, are a Minister for Local Government and Development (Mr Graham Page) and a Minister for Housing and Construction (Mr Julian Amery), and four Parliamentary Secretaries, including Mr Michael Heseltine, formerly Parliamentary Secretary, Ministry of Transport, who will presumably continue to understudy Mr Peyton.
First task of the three new departmental Ministers will be to review the whole range of their existing responsibilities. The Government will then decide whether they are necessary functions of central government and, if they are confirmed as such, whether they are rightly articulated in the department's organizational framework.
Emphasis will be placed on ensuring that wherever possible, at all levels, responsibility and accountability are clearly defined and allocated.
And the White Paper adds significantly: "The possibilities of stopping activities altogether, of reducing them and of transferring them to the private sector will all be explored."
It is this possibility of a measure of denationalization in some areas which might have particular bearing on road transport.
In justification of including transport in Mr Walker's department, the White Paper says it is increasingly accepted that maintaining a decent environment, improving people's living conditions and providing for adequate transport facilities all come together in the planning of development.
Because these functions interact, and because they give rise to acute and conflicting requirements, a new form of organization is needed at the centre of the administrative system.
Accordingly, the new Ministry will be responsible for the whole range of functions which affect people's living environment. These will embrace the transport industries, including programmes of support and development for the means of transport, along with housing, the construction industries, the planning of land, preservation of amenity, protection of the coast and countryside and of historic towns and monuments, and control of air, water and noise pollution.
The Minister will also have the particular responsibility of ensuring that people's rights are adequately protected wherever they are affected by proposals of their neighbours or of public authorities.
The White Paper concedes that it would have been possible to keep transport intact as a Ministry by swopping functions between departments. But that, it claims, would have broken internal links in each Ministry which it is just as important to maintain as it is to create new ones.
In particular it would have been wrong to sever the links between spatial planning of transport and the sponsorship of the transport industries.
Priority tasks on the transport front facing the new Ministry include the correlation of urban and transport planning; investment policies for the nationalized transport industries; a policy for the port industry following the abandonment of the late Labour Government's nationalization proposals; and highway strategy and the• roads programme.
Mr Peyton, while having particular responsibility for the transport industries and the ports, loses control of the roads programme which will come under his colleague, the Minister for Local Government and Development.
The reorganization proposals add up to some controversial moves towards achieving the "new style of government" which the Prime Minister promised at the General Election.
The changes, aimed at the achievement of a more streamlined and efficient administration, are likely to lead to considerable political controversy, with an early Opposition demand for a debate after Parliament resumes on Tuesday October 27.
(See "Topic" by Janus, page 54.)