PTE seeks local
23rd October 1970
Page 21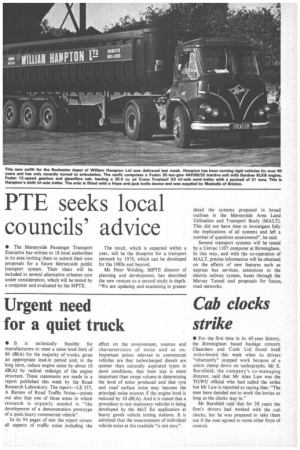 Page 21, 23rd October 1970 —
PTE seeks local
Close
councils' advice
0 The Merseyside Passenger Transport Executive has written to 18 local authorities in its area inviting them to submit their own proposals for a future Merseyside public transport system. Their ideas will be included in several alternative schemes now under consideration, which will be tested by a computer and evaluated by the MPTE. The result, which is expected within a year, will be the blueprint for a transport network by 1976, which can be developed for the 1980s and beyond.
Mr Peter Welding, MPTE director of planning and development, has described the new venture as a second study in depth. "We are updating and examining in greater detail the systems proposed in broad outlines in the Merseyside Area Land Utilisation and Transport Study (MALT). This did not have time to investigate fully the implications of all systems and left a number of questions unanswered", he said.
Several transport systems will be tested by a Univac 1107 computer at Birmingham. In this way, and with the co-operation of MALT, precise information will be obtained on the effects of new features such as express bus services, extensions to the electric railway system, buses through the Mersey Tunnel and proposals for future., road networks.