Hauliers call for hgv licence at 18
23rd October 1970
Page 20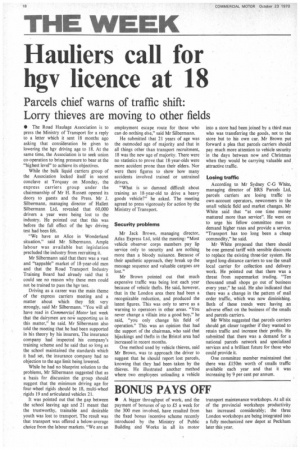 Page 20, 23rd October 1970 —
Hauliers call for hgv licence at 18
Close
Keywords :
Parcels chief warns of traffic shift: Lorry thieves are moving to other fields
• The Road Haulage Association is to press the Ministry of Transport for a reply to a letter which it sent 18 months ago asking that consideration be given to lowering the hgv driving age to 18. At the same time, the Association is to seek union co-operation to bring pressure to bear at the "highest level" to achieve its objectives.
While the bulk liquid carriers group of the Association locked itself in secret conclave at Torquay on Monday, the express carriers group under the chairmanship of Mr H. Russett opened its doors to guests and the Press. Mr J. Silbermann, managing director of Hallett Silbermann Ltd, revealed that 60,000 drivers a year were being lost to the industry. He pointed out that this was before the full effect of the hgv driving test had been felt.
"We have an Alice in Wonderland situation," said Mr Silbermann. Ample labour was available but legislation precluded the industry from recruiting it.
Mr Silbermann said that there was a vast and "tappable" market of 18-year-old men and that the Road Transport Industry Training Board had already said that it could see no reason why these men could not be trained to pass the hgv test.
Driving as a career was the main theme of the express carriers meeting and a matter about which they felt very strongly, said Mr Silbermann. "You will all have read in Commercial Motor last week that the dairymen are now supporting us in this matter," he said. Mr Silbermann also told the meeting that he had been supported in his theory by his insurers, The insurance company had inspected his company's training scheme and he said that so long as the school maintained the standards which it had set, the insurance company had no objection to the age limit being lowered.
While he had no blueprint solution to the problems, Mr Silbermann suggested that as a basis for discussion the group should suggest that the minimum driving age for four-wheel rigids should be 18, multi-wheel rigids 19 and articulated vehicles 21.
It was pointed out that the gap between the school leaving age and 21 meant that the trustworthy, trainable and desirable youth was lost to transport. The result was that transport was offered a below-average choice from the labour markets. "We are an employment escape route for those who can do nothing else," said Mr Silbermann.
He submitted that 21 years of age was the outmoded age of majority and that in all things other than transport recruitment, 18 was the new age of majority. There were no statistics to prove that 18-year-olds were more accident prone than their elders. Nor were there figures to show how many accidents involved trained or untrained drivers.
"What is so damned difficult about training an 18-year-old to drive a heavy goods vehicle?" he asked. The meeting agreed to press vigorously for action by the Ministry of Transport.
Security problems Mr Jack Brown, managing director, Atlas Express Ltd, told the meeting: "Most vehicle observer corps members pay lip service only to security and are nothing more than a bloody nuisance. Because of their apathetic approach, they break up the message sequence and valuable cargoes are lost."
Mr Brown pointed out that much expensive traffic was being lost each year because of vehicle thefts. He said, however, that in the London area there had been a recognizable reduction, and produced the latest figures. This was only to serve as a warning to operators in other areas. "You never change a villain into a good boy," he said, "you only change his field of operation." This was an opinion that had the support of the chairman, who said that hijackings and thefts in the Bristol area had increased in recent months.
One method used by vehicle thieves, said Mr Brown, was to approach the driver to suggest that he should report lost parcels, knowing that they had been taken by the thieves. He illustrated another method where two employees unloading a vehicle into a store had been joined by a third man who was transferring the goods, not to the store but to his own car. Mr Brown put forward a plea that parcels carriers should pay much more attention to vehicle security in the days between now and Christmas when they would be carrying valuable and attractive traffic.
Losing traffic According to Mr Sydney C-G White, managing director of BRS Parcels Ltd, parcels carriers are losing traffic to own-account operators, newcomers in the small vehicle field and market changes. Mr White said that "at one time money mattered more than service". He went on to urge his fellow committee men to demand higher rates and provide a service. "Transport has too long been a cheap commodity," he said.
Mr White proposed that there should be one general tariff with sensible discounts to replace the existing three-tier system. He urged long-distance carriers to use the small local carrier for collection and delivery work. He pointed out that there was a threat from supermarket trading. "Ten thousand small shops go out of business every year," he said. He also indicated that there was a change in the pattern of mail order traffic, which was now diminishing. Both of these trends were having an adverse effect on the business of the smalls and parcels carriers.
Mr White suggested that parcels carriers should get closer together if they wanted to retain traffic and increase their profits. He submitted that there was a demand for a national parcels network and specialized services and a brilliant future for those who could provide it.
One committee member maintained that there was £150m worth of smalls traffic available each year and that it was increasing by 9 per cent per annum.