Softly, softly
23rd October 1970
Page 19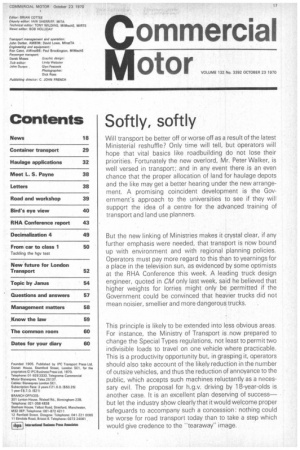 Page 19, 23rd October 1970 —
Softly, softly
Close
Will transport be better off or worse off as a result of the latest Ministerial reshuffle? Only time will tell, but operators wilt hope that vital basics like roadbuilding do not lose their priorities. Fortunately the new overlord, Mr. Peter Walker, is well versed in transport: and in any event there is an even chance that the proper allocation of land for haulage depots and the like may get a better hearing under the new arrangement. A promising coincident development is the Government's approach to the universities to see if they will suppgrt the idea of a centre for the advanced training of transport and land use planners.
But the new linking of Ministries makes it crystal clear, if any further emphasis were needed, that transport is now bound up with environment and with regional planning policies. Operators must, pay more regard to this than to yearnings for a place in the television sun, as evidenced by some optimists at the RHA Conference this week. A leading truck design engineer, quoted in CM only last week, said he believed that higher weights for lorries might only be permitted if the Government could be convinced that heavier trucks did not mean noisier, smellier and more dangerous trucks. .
This principle is likely to be extended into less obvious areas For instance, the Ministry of Transport is now prepared to change the Special Types regulations, not least to permit two indivisible loads to travel on one vehicle where practicable. This is a productivity opportunity but, in grasping it, operators should also take account of the likely reduction in the number of outsize vehicles, and thus the reduction of annoyance to the public, which accepts such machines reluctantly as a necessary evil. The proposal for h.g.v. driving by 18-year-olds is another case. It is an excellent plan deserving of success— but let the industry show clearly that it would welcome proper safeguards to accompany such a concession nothing could be worse for road transport today than to take a step which would give credence to the -tearawayimage.