HARD-WEARING TIMBER FOR LORRY PLATFORMS.
23rd November 1934
Page 37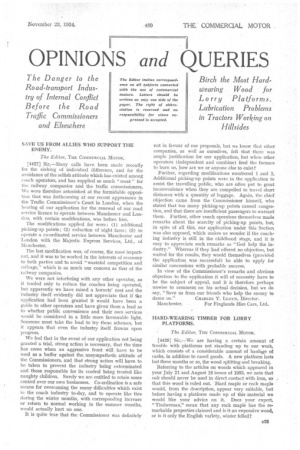 Page 38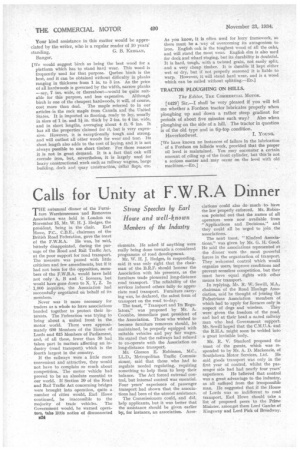 Page 37, 23rd November 1934 —
HARD-WEARING TIMBER FOR LORRY PLATFORMS.
Close
The Editor, THE COMMERCIAL MOTOR.
[4428] Sir,—We are having a certain amount of trouble with platforms not standing up to our work, which consists of a considerable amount of haulage of casks, in addition to cased goods. A new platform lasts but three months or so, the wood splitting and breaking.
Referring to the articles on woods which appeared in your July 21 and August 18 issues of 1933, we note that oak should never be used in direct contact with iron, so that this' woodis ruled out. Hard maple or rock maple would, from the description, appear very suitable, but before having a platform made up of this material we would like your advice on it. Does your expert, " Timberman," mean that any rock maple has the remarkable properties claimed and is it an expensive wood, or is it only the English variety, winter felled?
Your kind assistance in this matter would be appreciated by the writer, who is a regular reader of 10 years'
standing. G. B. KEEGAN. Bangor.
[We would suggest birch as being the best wood for a platform which has to stand hard wear. This wood is frequently used for that purpose. Quebec birch is the best, and it can be obtained without difficulty in planks ranging in thickness from 1 in. to 3 ins. As the price of all hardwoods is governed by the width, narrow planks —say, 7 ins, wide, or thereabout—would be quite suit able for this purpose, and less expensive. Although birch is one of the cheapest hardwoods, it will, of course, cost more than deal. The maple referred to in our articles is the rock maple from Canada and the United States. It is imported as flooring, ready to lay, usually in sizes of 1 in. and li in. thick by 3 ins. to 4 ins, wide, and in short lengths, averaging about 4 ft. 6 ins. It has all the properties claimed for it, but is very expensive. However, it is exceptionally tough and strong, and will outlast all other woods for wear and tear. Its short length also adds to the cost of laying, and it is not always possible to use short timber. For those reasons it is not in great demand. It is a fact that oak will corrode iron, but, nevertheless, it is largely used for heavy constructional work such as railway wagons, barge building, dock and quay construction, cellar flaps, etc. As you know, it is often used for lorry framework, so there must be a way of overcoming its antagonism to iron. English oak is the toughest wood of all the oaks, and will stand the most wear. English elm is also used for dock and liharf staging, but its durability is doubtful. It is hard, tough, with a twisted grain, not easily split, and a very cheap timber. It is durable if kept either wet or dry, but if not properly seasoned it is liable to warp. However, it will stand hard wear, and is a wood which can be nailed without splitting.—En.]
TRACTOR PLOUGHING ON HILLS.
The Editor, THE COMMERCIAL MOTOR.
144291 shall be very pleased if you will tell me whether a Fordson tractor lubricates properly when ploughing up and down a rather steep gradient for periods of about five minutes each way? Also when ploughing on the side of a hill. The tractor in question is of the old type and in tip-top condition.
Haverfordwest. . I. YOUNG.
[We have known no instances of failure in the lubrication of a Fordson on hillside work, provided that the proper oil level is maintained. You may encounter a certain amount of oiling up of the front cylinder, but this is not a serious matter and may occur on the level with old machines.—En.]