SfL has high hopes for Logistics Guild this year Skills
23rd May 2013
Page 37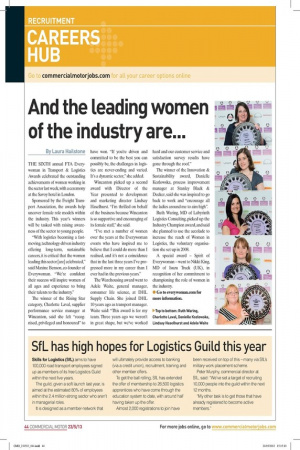 Page 37, 23rd May 2013 —
SfL has high hopes for Logistics Guild this year Skills
Close
for Logistics (SfL) aims to have 100,000 road transport employees signed up as members of its free Logistics Guild within the next five years.
The guild, given a soft launch last year, is aimed at the estimated 80% of employees within the 2.4 million-strong sector who aren't in managerial roles.
It is designed as a member-network that will ultimately provide access to banking (via a credit union), recruitment, training and other member offers.
To get the ball rolling, SfL has extended the offer of membership to 26,500 logistics apprentices who have come through the education system to date, with around half haying taken up the offer.
Almost 2,000 registrations to join have been received on top of this — many via SfL's military work placement scheme.
Peter Murphy, commercial director at SfL, said: "We've set a target of recruiting 10,000 people into the guild within the next 12 months.
"My other task is to get those that have already registered to become active members."