And the Leading women of the industry are...
23rd May 2013
Page 37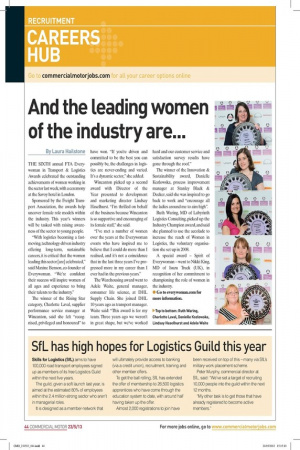 Page 37, 23rd May 2013 —
And the Leading women of the industry are...
Close
By Laura Hailstone THE SIXTH annual FTA Everywoman in Transport & Logistics Awards celebrated the outstanding achievements of women working in the sector last week,with a ceremony at the Savoy hotel in London.
Sponsored by the Freight Transport Association, the awards help uncover female role models within the industry. This year's winners will be tasked with raising awareness of the sector to young people.
"With logistics becoming a fastmoving, technology-driven industry offering long-term, sustainable careers, it is critical that the women leading this sector [are] celebrated," said Maxine Benson, co-founder of Everywoman. "We're confident their success will inspire women of all ages and experience to bring their talents to the industry."
The winner of the Rising Star category, Charlotte Laval, supplier performance service manager at Wincanton, said she felt "recognised, privileged and honoured" to have won. "If you're driven and committed to be the best you can possibly be, the challenges in logistics are never-ending and varied. It's a dynamic sector," she added.
Wincanton picked up a second award with Director of the Year presented to development and marketing director Lindsay Haselhurst. "I'm thrilled on behalf of the business because Wincanton is so supportive and encouraging of its female staff," she said.
"I've met a number of women over the years at the Everywoman events who have inspired me to believe that I could do more than I realised, and it's not a coincidence that in the last three years I've progressed more in my career than I ever had in the previous years."
The Warehousing award went to Adele Waite, general manager, consumer life science, at DIAL Supply Chain. She joined DIAL 10 years ago as transport manager. Waite said: "This award is for my team. Three years ago we weren't in great shape, but we've worked hard and our customer service and satisfaction survey results have gone through the roof."
The winner of the Innovation & Sustainability award, Danielle Kozlowska, process improvement manager at Stanley Black & Decker, said she was inspired to go back to work and "encourage all the ladies around me to aim high" Ruth Waring, MID of Labyrinth Logistics Consulting, picked up the Industry Champion award, and said she planned to use the accolade to increase the reach of Women in Logistics, the voluntary organisation she set up in 2008.
A special award — Spirit of Everywoman — went to Nikki King, MD of Isuzu Truck (UK), in recognition of her commitment to championing the role of women in the industry.
• Go to everywoman.com for more information.
■ Top to bottom: Ruth Waring, Charlotte Laval, Danielle Kozlowska, Lindsay Haselhurst and Adele Waite